DIY Crackers from Sagan
The great cracker quest continues with a guest post from a Snack-Girl reader.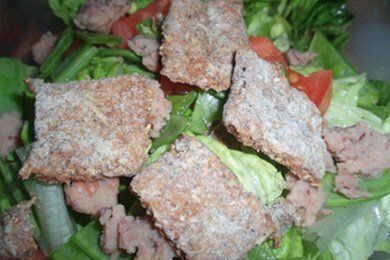 Sagan writes a great blog called Living Healthy in the Real World and she has been following my cracker posts.
Below she outlines how to make your own crackers - which is clearly the healthiest cracker option if you have the time. From Sagan:
Being a health freak, my philosophy is to eat all-natural, whole foods. There are many harmful ingredients in processed foods, so I avoid them as much as possible.
Even the supposedly "healthier" brands of food, such as Kashi, are often loaded with different kinds of sugar.
Instead of buying expensive, chemical-laden products, I make my own food instead: I regularly make my own granola, crackers, energy bars, bread, ketchup, and vegetable stock, to name just a few.
It's cheaper, tastes fantastic, and best of all it's healthy because you choose the ingredients! And I can promise you that these homemade creations taste better than store-bought.
The main reason people give for why they don't make these products themselves is either that they don't have enough time, or that it's too difficult to prepare these foods.
But don't be hesitant! It's easy to make your own products when you have the right recipes.
This crackers recipe from The Kitchen Illiterate is my all-time favourite. They taste great on their own, dipped in hummus, topped with cheese, or crumbled over a salad as croutons:
---
DIY Cracker Recipe
¾ cup whole wheat flour
¼ cup spelt flour (or more whole wheat flour)
¼ cup buckwheat flour (or more whole wheat flour)
½ tsp salt
¼ tsp baking powder
¼ cup dried rosemary
½ tsp garlic powder
1 ½ tbsp olive oil
½ cup warm water

Directions:
1. Mix together all of the dry ingredients in a big bowl. Add the oil and water and mix with your hands until well-combined.
2. Roll the dough out to about 1/16 of an inch (or as thin as you can get it) with a rolling pin on a floured surface. The thinner your dough is, the crispier your crackers will be!
3. Preheat the oven to 350 degrees F. Cut the dough into small squares with a butter knife. Place parchment paper on a baking sheet (or spray some oil on the sheet) and place the crackers on top in a single layer. Bake for 15-20 minutes, or until they start to brown.

Do any of you make your own crackers? Please share below.
Want to read about snacks?
Ten Calories of Salty, Healthy, Whole Food Crunch
How to Snack Well (Hint: Avoid SnackWell's)
Fastest, Easiest, and Tastiest Guacamole
Desperately Seeking Delicious and Healthy Yogurt