Simple and Fun: DIY Pizza Lunchable
Do you know how children bug you for junk food? Well, I brought home a "Lunchables" for review on this site and my kids went bonkers.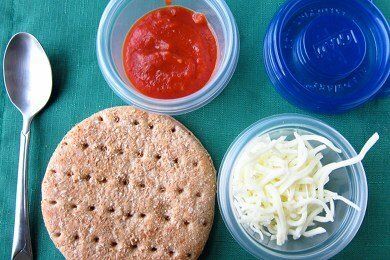 This was my post: Five Reasons To Avoid A Lunchable
My daughter, who is very persistent, begged me to buy another one because a girl in her class brings Lunchables to school. I happen to know the family that sends the Lunchable - two hard working parents - and I am not judging them at all.
BUT, I did write about avoiding "Lunchables" and since I am against them - I had to get creative to stop my children from badgering me.
I came up with the "DIY Pizza Lunchable" above and they think I am a genius - mother of the year! What I like about it is that it is super easy to make and I get to feel like Martha Stewart for a millisecond.
You need little containers (these are Glad - BPA free), pizza sauce with no added sugar, grated mozzarella cheese, and a circle of bread.
The bread is the hardest part of this lunch because you want something like a flat bread. I bought these 100% Whole Wheat Arnold Sandwich Thins - but the ingredient list is a mile long and it includes stevia.
I couldn't find any other bread at Stop & Shop that would work - so I am looking for suggestions. Perfection is overrated anyway :)
All of the food cost me about $9 for 8 DIY Lunchables - which is significantly less than the price of an Oscar Mayer Lunchables ($24) - and I get to reuse the packaging. I did add a piece of fresh fruit so that brings the price up a bit.
If you are at home, just toss this combo in your toaster oven or under your broiler for a delicious pizza snack.
How do you keep your lunch from getting dull?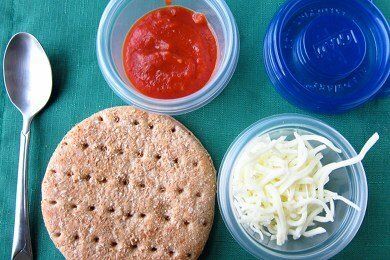 DIY Pizza Lunchable

(makes 8 lunches)
1 package 100% Whole Wheat Arnold Sandwich Thins
1 jar pizza sauce (no sugar added)
1 - 8 ounce package shredded mozzarella cheese

Put cheese and pizza sauce in small containers. Pack lunch box with bread, cheese, sauce, spoon, and napkin. Wait for your children's undying love and gratefulness when they return from school. (Don't forget to pack a piece of fruit.)
One serving with one ounce of cheese = 203 calories, 6.9 g fat, 25.6 g carbohydrates, 12.9 g protein, 6.5 g fiber, 491 mg sodium, 5 Points+
Points values are calculated by Snack Girl and are provided for information only. See all Snack Girl Recipes
Other posts you might like:
---

Snack Girl makes frequent visits to her local supermarket to check up on the latest. Guess what I found in the shampoo aisle?....
---

We arrive at the end of summer and it is time to start packing those lunch boxes for school. How can we make them better?...
---
---
Get Free Email Updates! Yes please!
---