Top Ten Lunch Box Snacks 2011
We arrive at the end of summer and it is time to start packing those lunch boxes for school. How can we make them better?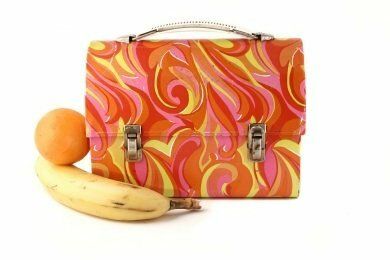 My children are always demanding that the food keep changing - they seem to love variety. Would I love to pack carrot sticks every day? Yes! But, will they eat them every day? No!
So, I tax my brain about what types of healthy foods to include - and most importantly - I involve them in my decisions. If they "buy in" to a healthy snack, they are much more likely to actually eat it.
I am hoping that as my children get bigger - they will pack their own lunches. This would make my life SO much easier and be good training for when they no longer live here.
The list below is meant to augment the obvious stuff for lunch boxes (apples, grapes, bananas, veggie sticks, whole grain crackers, etc.). The first seven on the list are recipes for when you have a little time to prepare a healthy snack.
The last three are my favorite packaged snacks for when I run out of time for making snacks.
1.

Create A Better Snack With Carrots
2.

Lighter, Fluffier Trail Mix
3.

Whole Grain, Homemade Chip: Goodbye Potato Chips!
4.

A Grab 'N Go Breakfast With ZERO Added Sugar (and you will love it)
5.

The Cheater's Guide to Healthy Yogurt
6.

Transform Broccoli Into a Food the ENTIRE Family Will Eat
7.

Give the Gift of A Healthy Snack (Your Friends Won't Even Know Its Healthy!)
Packaged snacks:
8.

A Healthy Packaged Snack For Your Lunch Box
9.

The Benefits of Cheese Sticks
10.

Need Some Intense Dark Twilight Delight?
Below is my favorite lunch box (because it has compartments to put yummy food in) and my friend, Kelly, came up with them.
What do you put in your kid's lunch box?
---
$19.99 ($5.00 / Count) $13.95 ($3.49 / Count) Buy on Amazon.com
As an Amazon Associate I earn from qualifying purchases.
---
Other posts you might like:
---

These 25 ideas for healthy after-school snacks will stop you from scratching your head when your kids run in the door.
---

Are you financially stretched? Honestly, who isn't feeling the pain of our economic downturn?...
---