DIY Popsicles: A Happy, Healthy Snack
Summer is here, baby! My town hit 87 degrees and I was hot. Fortunately, I had just made some of these delicious treats for the website.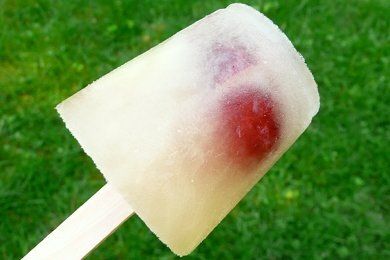 Lauren, a Snack Girl reader who is a Nutritional Educator at D. C. Central Kitchen, wanted to know how to make her own popsicles for the low income people she teaches. (If you live in DC, check out this group - they look so awesome!)
So, I looked into it, and I found this AMAZING book. "Pops!" by Krystina Castella is a fantastic resource for anyone who wants to make their own popsicles. She has a ton of recipes including ingredients such as fruit juice, yogurt, fruits, coffee, and (dare I mention it) alcohol. I, literally, could not wait to try her recipes.
Why would you want to make your own popsicles? Because it is cheaper and you can control the ingredients. It is amazingly difficult to find a popsicle in the store made from just fruit or fruit juice.
Once, I purchased a "no added sugar" variety for my children, thinking it meant just juice, and ended up with SUCRALOSE in the ingredients. (I was pissed!!!) I really don't believe my children need artificial sweeteners.
So, I chose the easiest recipe in the book, Grape Pops, because I am lazy. Just 2 ingredients, grapes and grape juice, and you have a divine icy creation for a mere 73 calories - no added sweeteners or artificial colors.
Lauren had asked me to figure out a way to make them without any expensive molds. In her book, Krystina gives all sorts of ideas for popsicles molds that don't involve commercial molds. I made these with popsicles sticks that I bought from a craft store (I also saw popsicle sticks at a Dollar Store) and Dixie Cups.
The key to using cups and sticks was that I had to wait 30 minutes before adding the sticks to the cups. When the grape juice got slushy, I could add the popsicle stick and it would stand up on its own. You could also do with with an ice-cube tray.
I have included a link to the most popular popsicle molds on Amazon. I bought some EL-Cheapo ones ($4) at the grocery store and they really stunk. If you think you are going to make a lot of popsicles, I say go with the top.
Off to make Krystina's Margarita Pops.... (Did I say that out loud?)
---
Grape Pops Recipe

(from Pops! Icy Treats for Everyone by Krystina Castella (Quirk Books, 2008))
(makes eight 6-ounce pops)
1 1/2 cups seedless red grapes, cut in half
4 1/2 cups white grape juice

1. Divide the grape halves among the pop molds. Pour in the grape juice and insert the sticks. Freeze for at least 6 hours.
2. Remover from the freezer; let stand at room temperature for 5 minutes before removing the pops from the molds. Enjoy these pops as you would a fine wine.

66 calories, 0.2 g fat, 15.7 g carbohydrates, 0.8 g protein, 0 g fiber, 2 mg sodium, 1 Points+
---
$15.95 $9.14 Buy on Amazon.com
As an Amazon Associate, I earn from qualifying purchases.
---
$24.98 ($4.16 / Count) Buy on Amazon.com
---
Ever attempted to make your own popsicles? Please share!
Want to read about snacks?
A Little Ranch Dressing Isn't Gonna Kill Ya
Is a GoGurt a Healthy Go or a Junk Food No?
20 Yummy Potato Chips for 120 Calories
When It Heats Up Try This Simple Zero Calorie Drink