A Little Ranch Dressing Isn't Gonna Kill Ya
Raw vegetables are probably the healthiest food that you can eat. Low in calories, high in vitamins and fiber, it is hard to go wrong. Why don't we eat more of them?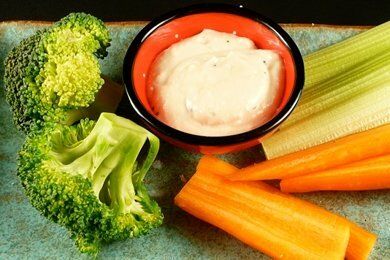 I would put raw vegetables in the DULL category of foods. No flashy golden packaging on these babies. And, you have to do WORK like wash, peel, and cut to make them edible. Who has time for that?
You do. Why? One example (and this is just one of many) is a carrot. With over 686% of your daily value of Vitamin A in one cup, they are packed with nutrients your body needs to be healthy.
Study after study in medical research refers to vegetables like carrots to prevent cancer, heart disease, and obesity.
So, maybe you are like me and think carrots are dull. Or maybe you are like my six year old daughter, Ruby. Ruby won't eat carrots UNLESS there is a little bowl of ranch dressing and then she eats about 2 large and raw carrots.
Whenever she wolfs these down, I get a little smile on my face for having tricked her into eating healthily. I know that ranch dressing is fatty, creamy, and sweet, but for a little bit of dressing, she eats a whole bowl of carrots! How fantastic is that?
Never under estimate the value of a great dip for your veggies. I know people say that high calorie dressing "ruins" a salad. And, yes, dressing "ruins" the calorie content -BUT, you still ate the vegetables, right? And, those are really good for you, even if they were drenched in blue cheese!
Of course, here on Snack Girl, I have posted about 3 healthy and low calorie dips - Yogurt Dip, Guacamole, and Hot Artichoke Dip. So, you don't have to go to blue cheese if you don't want to for your veggies.
The more delicious you make your veggies, the more you will eat and the healthier you will become. I promise.
What is your favorite veggie and dip combo?
Want to read about snacks?
20 Yummy Potato Chips for 120 Calories
The Healthiest Cracker On The Planet
Cheerios: A Good Choice For a Healthy Snack?
Olive Tapenade from Clean Food Cookbook