Can Domino's Deliver A Healthy and Tasty Meal?
You would have to be living under rock to miss the Domino's marketing campaign. Seems that they changed their recipe, and their food doesn't taste like cardboard.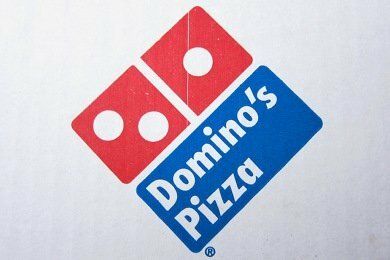 Really?
Actually, I had to laugh when I saw their commercials because they reflected EXACTLY what I thought of Domino's pizza from the single time I tasted it. My tasting notes ran something like: cardboard, ketchup, bland cheese with the consistency of glue.
(you can see their ads on the Pizza Turnaround website)
The whole concept of Domino's has been that they can get you a cheap meal in 30 minutes or less. No one seemed to care how it tasted or if it was good for you.
Their year long marketing campaign has featured the fact that their pizza is made with REAL food (not processed garbage) and made fresh. But, my problem is that everywhere I have lived (including the South) there has been a better local option to Domino's.
I have ALWAYS been able to find pizza that tastes better. I can't say it arrived faster or was cheaper than Domino's but my values are a bit different.
Never the less, I decided to give the new Domino's a try because I had hope that were going to pull it off. Also, I like that their site features their nutritional information (scroll to the bottom of the home page) - and you can use it to figure out what you want to order see here: Calculate Calories Domino's Pizza.
There is nothing inherently unhealthy about pizza. Pizza is a pretty good choice when as compared to other fast foods like french fries AND you can get it with lots of healthy vegetables.
Here is the photo of the large, light cheese, thin crust, spinach, and roasted red pepper pizza that I ordered and paid $6.21 for: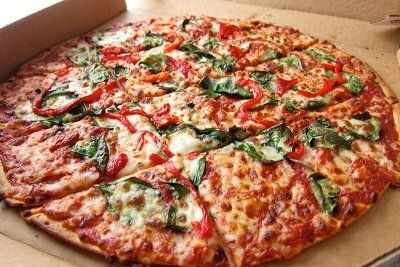 Yes, you heard me $6.21 including tax for a large pizza with two toppings. And I could end the review here because I think that says a lot about this pizza (but I won't :)
Let's start with the facts for one slice (1/8th of large pie) of pizza:
175 calories, 8 g fat, 19 g carbohydrates, 6 g protein, 1 g fiber, 300 mg sodium, 5 Points+
Not bad! I DID try to order the healthiest option. Here is the nutritional information for that same slice with hand tossed crust and the normal amount of cheese:
240 calories, 9 g fat, 34 g carbohydrates, 10 g protein, 2 g fiber, 540 mg sodium, 7 Points+
The sodium number here is out of control because this is just for one slice and you are looking at 22% of your daily value of sodium. Don't you dare eat another one.
So back to my spinach, red pepper option - my first question is where are the spinach and red peppers? Does that seem like a really small amount to you? I want lots of veggies on my pizza because I consider pizza to be a vegetable delivery device (not unlike tortilla chips).
And the taste? The good news is that the sauce tastes much better - lots of flavor and a bit spicy. But, the crust still tasted like cardboard (I think it was cardboard). It was a pre-frozen crust that reminded me of frozen pizza.
I hear the hand tossed crust is pretty good, but I can't waste the calories on trying this pizza again.
My suggestion? If you need a quick dinner, pizza is a good choice. I would go with my frozen pizza with added vegetables, your best local pizza place, or making it yourself.
Your pizza will take longer and probably cost you more, but it will be worth it.
Domino's IS better than it used to be, but still not the best.
Have you tried the new Domino's?
Want to read about snacks?
You Will LOVE This 81 Calorie Egg Recipe
Save Money, Your Waistline, And The World By Making Your Own Cereal
A Surprise Finding, Starbucks Serves Breakfast Sandwiches
The Cheater's Guide to Healthy Yogurt