A Surprise Finding, Starbucks Serves Breakfast Sandwiches
The relentless search for a decent egg breakfast sandwich continues with an entrant from Starbucks.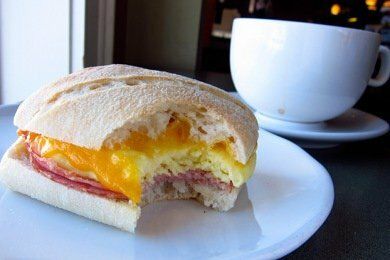 Some of you are probably sick of this by now (and you have told me MANY times to stop trying to buy a breakfast sandwich one and just make it myself - which I promise to do).
But, I felt that I had to try the Egg, Cheese, and Ham breakfast sandwich from Starbucks to see how it compared to the Egg McMuffin since I had compared the two brands' oatmeal see here: Starbucks' Oatmeal vs. McDonald's Oatmeal - Which one should you choose?.
Right off the bat, I am going to tell you that this sandwich is delicious. Like really delicious! So delicious in fact, that I worried about exactly what they put in the sandwich.
Which leads me to a fact that I couldn't find out what was in this sandwich. I looked on the Starbucks' website and found nothing. The, I called them and they forwarded me to media relations and they didn't e-mail me back.
So, I went with the nutritional information on the Bacon, Gouda Cheese & Egg Frittata on an Artisan Roll because it was similar to what I had.
Which leads me to the other crazy thing about my Starbucks visit which was that the man next to me was eating a ham and egg bagel that he had brought in from a bagel place. I asked him, "Do you not like these egg sandwiches?". He replied, "I didn't even know they served them here."
hmmm.
And, that was why I didn't even try the potentially healthier - Reduced-Fat Turkey Bacon With Egg Whites on English Muffin - that Starbucks also sells.
Because, I didn't know they sold it! There was no list of breakfast sandwiches to choose from that I could see when I entered the store. Now, I'm not a marketing expert but I think it is a good idea to let your customers know of any potential products they might want to buy when they enter your place of business.
Just an idea.
Anyway, not to bash Starbucks, but McDonald's does do an excellent job of having all their nutritional information on their website (and they sent me free coffee coupons). Starbucks won't even call me back.
Back to the sandwich, which was $3.79 and delightful. So, it has 840 mg of sodium, which is out of control and no fiber to speak of.
So, this is a treat and should be used in emergencies. And for $2 more than the Egg McMuffin, you are going to have something delicious made with real ingredients like REAL cheese. If you are going to spend the calories and cash, this is your sandwich.
For Bacon, Gouda Cheese & Egg Frittata on Artisan Roll: 350 calories, 18 g fat, 30 g carbohydrates, 17 g protein, 0 g fiber, 840 mg sodium, 9 Points+
Ingredients:
rustic white roll (flour [wheat flour, malted barley flour], water, sour culture, canola oil, white degerminated corn meal, contains less than 2% of the following: salt, sugar, yeast, cultured wheat flour, alpha amylase, niacin, reduced iron, maltodextrin, thiamine mononitrate, riboflavin, folic acid),cheese frittata patty (whole eggs, nonfat milk, monterey jack cheese [pasteurized milk, cheese culture, salt, enzymes, potato starch, powdered cellulose (to prevent caking)], full moisture parmesan cheese (parmesan cheese [part skim milk, cheese culture, salt, enzymes], cellulose powder), soybean oil, water, contains 2% or less of the following: unmodified corn starch, xanthan gum, salt, citric acid, black pepper),gouda (pasteurized milk, cheese culture, salt, enzymes, annatto color), bacon (cured with: water, sea salt, cane sugar, natural flavors)
Now, the sad part, is that the "reduced fat" sandwich isn't really that much better than the other fattier option.
See here: Reduced-Fat Turkey Bacon With Egg Whites on English Muffin
320 calories, 7 g fat, 43 g carbohydrates, 18 g protein, 3 g fiber, 700 mg sodium, 8 Points+
Why isn't this more like the Vitalicious Egg-n-Cheese sandwich? Is it because of the bacon?
I will send this over to Starbucks to see if I can get a response. I'm not holding my breath because then I would turn blue and die.
Have you tried the Starbucks egg sandwiches? Please share!
After I wrote this, Starbucks did send me the information. It is almost exactly the same as the sandwich above. Maybe I will get a response :)
Want to read about snacks?
Do You Need Some Inspiration to Become Healthier?
Homemade Whole Wheat Tortillas - So Ridiculously Easy
My Friends Use To Laugh At Me...And THEN I Made This Broccoli Recipe
Are Canned Peaches A Healthy Snack?