Save Money and Calories With This Iced Mocha
Whew! Snack Girl doesn't know what temperature it is in your neck of the woods, but here it is hot.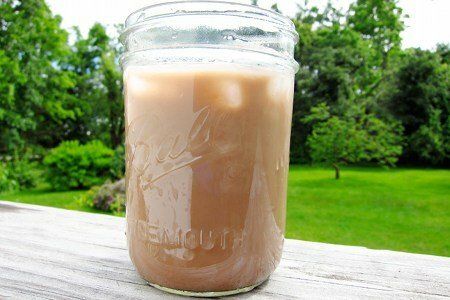 Like fry an egg on the pavement hot.
When it is super steamy, do you drink hot coffee? I know folks who start throwing ice cubes in everything when it heats up, coffee, tea, smoothies, their underwear :)
I paid $4 for a Iced Cafe Mocha the other day because I couldn't resist (290 calories).
Then, I got to thinking about Mason jars. Why? Because a friend of mine, Steve, was drinking an iced coffee from a Mason jar and I thought it was so cool. Mason jars are hip!
What if you pre-made your iced coffee treat so you never go to Starbucks again? How hard could that be?
I got out my Mason jar and started brewing. I used unsweetened almond milk for the "milk" portion of the drink because it doesn't spoil like cow's milk and I wanted to make a bunch of these.
All you do is brew your favorite coffee (decaf, hazelnut, etc.), pour it into the jar. Mix in the almond milk and chocolate syrup and store in the refrigerator with the lid. When you are ready to have your treat - dump in some ice cubes and head for your verandah, porch, or couch.
(I love the word "verandah".)
Isn't that amazing? Save money, the environment (reusable cup), and calories in one swoop and it is super yummy.
Do you have a strategy for sugary beverage consumption?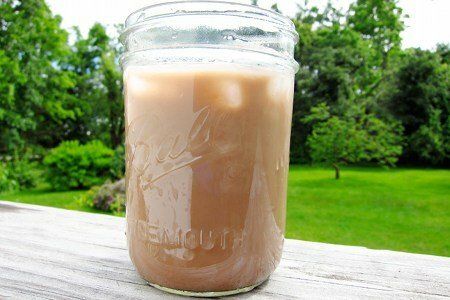 Iced Mocha Recipe
(makes one)
Ingredients
1/2 cup coffee (of your choice)
1/2 cup unsweetened almond milk
1 tablespoon chocolate syrup (such as Hershey's)
Instructions
Mix coffee, almond milk, and syrup in jar. Store, covered, in fridge until ready to drink. Add lots of ice cubes and enjoy!
Nutrition Facts
For one mason jar = 74 calories, 1.7 g fat, 13.2 g carbohydrates, 9.3 g sugar, 1.0 g protein, 1.0 g fiber, 106 mg sodium, 2 Points+
Points values are calculated by Snack Girl and are provided for information only. See all Snack Girl Recipes
Other posts you might like:
---

How do you get 560 calories into a 16 ounce drink? That takes the talent of a major global corporation: McDonald's (of course)....
---

Some people love water and others wish it was more flavorful. I am in the "love water" camp, but many of my readers are not....
---
---
Get Free Email Updates! Yes please!
---