560 Calories For Your Rapid Consumption From McDonald's
How do you get 560 calories into a 16 ounce drink? That takes the talent of a major global corporation: McDonald's (of course).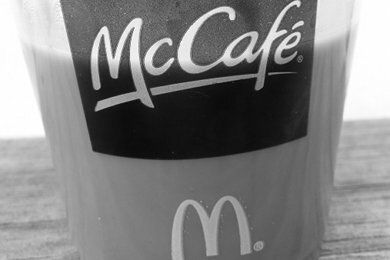 A Coke has a mere 200 calories for 16 ounces, and it is looking good right now compared to the McDonald's Frappe՛.
Why does Snack Girl keep picking on McDonald's? (remember McDonald's Burger Left for Two Weeks?) I believe it is because I cannot defend myself from their marketing juggernaut.
Their Frappe՛is on billboards, on the radio, on the internet, and I even heard they were giving out FREE ones at my local McD's.
How is a girl supposed to avoid all that advertising? I succumbed one day when my kids asked to go to the famous McD's play space. It is a rare treat, and I get to listen to traffic while they scream delightedly at going down a long covered slide.
Also, I wanted to try this Frappe՛. I figured I needed a coffee and it was my snack time. Usually, my snack time has about 100 to 200 calories depending on how hungry I am and what I had for lunch. When I asked at the counter, they didn't know how many calories were in the Frappe՛(and they didn't know what was in it).
It tasted delicious. The mixologists at McDonald's really know their stuff. When I came home, I checked the calorie content and was absolutely blown away. 560 CALORIES, 24 GRAMS OF FAT, 70 GRAMS OF SUGAR - wow!
Honestly, I thought I was ordering a coffee drink with some added sugar - not a CREAM drink with some added coffee!!!!
The second ingredient is cream! (see below)
And, it takes talent to get high fructose corn syrup listed 3 times on an ingredient list.
I believe McDonald's has started the McCafe՛to compete with Starbucks. And, the drinks at Starbucks can be notoriously fatty and high calorie.
BUT, Starbucks has their ingredients and calorie amounts listed at the store. The McDonald's here in Massachusetts did not. Again, I had no way to assess the damage before I tried the stuff.
My advice is to stay FAR AWAY from the Frappe՛ and stick with Coffee.
---
Anyone else try the McDonald's Frappe՛ What did you think?
Want to read about snacks?
A Breakfast Cereal You Can Feel Good About
Should Kids Drink Juice?
I Love You More Than Bacon (Maybe)
Want Fewer Dirty Dishes? Try This Healthy Trick
---
Ingredients in McDonald's Frappe՛

Mocha Coffee Frappe Base
Water, cream, sugar, milk, high fructose corn syrup, coffee extract, natural (botanical source) and artificial flavors, cocoa (processed with alkali), mono- and diglycerides, guar gum, potassium phosphate, disodium phosphate, carrageenan, carob bean gum, colored with (red 40, yellow 5, blue 1).
Ice
Ice
Whipped Cream
Cream, nonfat milk, water, corn syrup, sugar, high fructose corn syrup, mono-and diglycerides, carrageenan, polysorbate 80, beta carotene (color), natural (dairy and vegetable source) and artificial flavor, mixed tocopherols (vitamin E) to protect flavor. Whipping Propellant (nitrous oxide).
Chocolate Drizzle
Corn syrup, water, hydrogenated coconut oil, high fructose corn syrup, glycerin, nonfat milk, cocoa powder, cocoa (processed with alkali), food starch-modified, disodium phosphate, potassium sorbate (preservative), xanthan gum, artificial flavor (vanillin), salt, soy lecithin.