Raspberry Lemonade With 50% Less Sugar From Tropicana: Healthy?
After Snack Girl's trip to McD's last week (see: McDonald's Frozen Strawberry Lemonade: Don't Believe The Hype ), she decided to hit Target for the latest from Tropicana.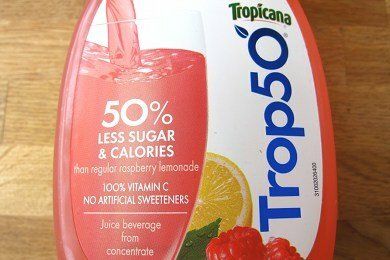 You might have seen ads for this drink on our website in the upper right hand corner. And, I thought I would test it for healthiness.
Snack-Girl.com has a partner relationship with FoodBuzz - I don't actually get contacted by Tropicana to put advertisements on this site.
As I write, I have a glass of it on my desk and (gurgle gurgle gurgle....slurp) I am tasting it. Well, it tastes like fruit punch - and I don't notice any lack of sugar.
hmmm. The Minute Maid flavored juice beverage has 30 grams of sugar for an 8 ounce serving, and Trop50 has 12 grams in this raspberry lemonade for the same serving.
Check! This IS 50% less sugar than your average raspberry lemonade.
Here are the nutritional facts:
For 8 ounces: 50 calories, 0 g fat, 12 g carbohydrates, 0 g protein, 0 g fiber, 15 mg sodium, 1 Points+
Ingredients:
Filtered water, sucrose, white grapefruit pulp, lemon juice concentrate, lemon juice, red raspberry juice concentrate, natural flavors, ascorbic acid (vitamin C), citric acid, Reb A(Pure Via (TM) brand) and vitamin E acetate (vitamin E).
I think it is a little bizarre to have white grapefruit pulp playing the role of lemon pulp - but, hey, who am I to judge?
Tropicana is owned by PepsiCo, Inc., and Pepsi has been making an effort to come out with healthier products. Juice, in my opinion, is always a treat and for $2.79 for 60 ounces this is a pretty cheap one.
Where I get concerned is that the front of the package says "No Artificial Sweeteners" and there is something called Reb A added to the juice.
Slurp...I can't taste the Reb A - but I can taste a slightly chemical taste that reminds me of an artificial sweetener. (I am a recovered Diet Coke addict so I know this flavor.)
Reb A is also known as Rebaudioside A. It is the sweetest of all the natural compounds in the stevia leaf (see:Reb A from Pure Via).
Stevia was approved by the FDA in 2008, and is a HERBAL sweetener so it is not considered artificial like Nutrasweet or Sucralose which are made in a laboratory out of other chemicals.
Of course, the leaves of the stevia plant are processed in a laboratory to remove the Reb A using ethanol. I don't believe Reb A is a natural sweetener like, let's say, honey (processed by bees), but it is a bit like sugar (processed in a manufacturing plant).
My question to Pepsi is how did this drink taste without the Reb A? Two teaspoons of sugar (10 grams) seems like a good amount for 8 ounces of juice. Did it work?
Do you think American's won't drink lemonade if it is tart? Isn't that the point of lemonade?
You know, I do think this is a step forward - there are no artificial colors in this product - it does taste okay and it does have less sugar. The final step is to leave out additional ingredients that are, frankly, unnecessary in this juice.
I would drink this on a hot summer day with a lot of ice and have a treat. I would also make my own lemonade and drink that with a lot of ice (when I can figure out how to make my own lemonade :)
Have you tried Trop50? What do you think?
Want to read about snacks?
This "Juice" Has HFCS and More Sugar Per Serving Than Soda
McDonald's Frozen Strawberry Lemonade: Don't Believe The Hype
A New Meaning For The Word "Grass"
Vegan Cupcakes Have Taken Over The World