A Thanksgiving Feast Cooked in 10 Minutes? Done!
Yes, it is possible to create an entire Thanksgiving dinner in 10 minutes. How?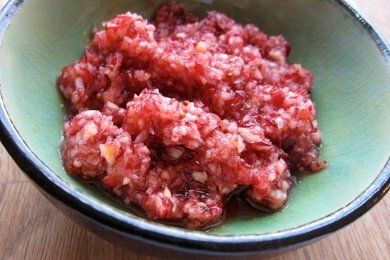 There are two steps:
1. Call your local supermarket and order a Thanksgiving dinner for the number of people are coming. (5 Minutes)
2. Make Cranberry Horseradish Relish - photo above. (5 Minutes)
Right now you are thinking: What kind of Food Blog is THIS? Has Snack Girl lost her mind? (I KNOW I am going to get flamed for this.)
All month, I have been inundated with beautiful Thanksgiving images on magazines and websites. The food just looks glorious. But, the point of Thanksgiving isn't the food.
It is a day to spend with your family and friends. It is one of my favorite holidays because it celebrates giving thanks, gratefulness, family, love, etc. (sniff)
So, I give you permission to order your dinner from the supermarket. My Whole Foods has an 8 person feast for $139 including turkey, mash potatoes, green beans, apple pie, gravy - everything you need to have a good meal.
It won't be as delicious as if you cook it. But, if you are already working all WEEK and the thought of working all DAY on Thanksgiving is painful - don't cook. I promise no one will notice.
I guess what I am saying is something that Della, Snack Girl reader, said to me back when things were really tough last summer.
She said, "Love yourself more than anyone else." I don't think she meant be selfish and cruel to others. I think she is saying, "Be kind to yourself."
BE KIND TO YOURSELF and enjoy your Thanksgiving.
Okay, so after you order the meal, try the cranberry relish recipe below. You will have to find the "prepared horseradish" which is near the sour cream in the dairy section of your supermarket.
This relish is so ridiculously easy and it is special. The sweetness of sugar, tartness of cranberries, the heat of the horseradish, and a little sour from the lemon take it into outer space. Paired with turkey, this will blow your mind.
(Here is Rachel Ray's 60-minute Thanksgiving Plan for those of you with more than 10 minutes.)
What are your Thanksgiving plans? Please share your thoughts on my 10 minute Thanksgiving.
---
Cranberry Horseradish Relish Recipe

(makes 1 1/2 cups)
2 cups fresh cranberries
1/2 cup sugar
1/4 cup prepared horseradish
1 tablespoon fresh lemon juice

Chop cranberries and sugar in food processor. Put in bowl and mix in horseradish and lemon juice. Cover and put in refrigerator for at least one day. This relish can be made 3 days ahead and stores well.
Want to read about snacks?
Pretzels Can Make You Dance (Giveaway)
Saving The Brussels Sprouts
Want To Prevent Breast Cancer? Try This Awesome Snack
What You Need To Know About Hot Dogs