Pretzels Can Make You Dance (Giveaway)
It is Friday and Snack Girl is READY for the weekend. Here at the homestead we have a Friday night dance party consisting of tunes by the Village People.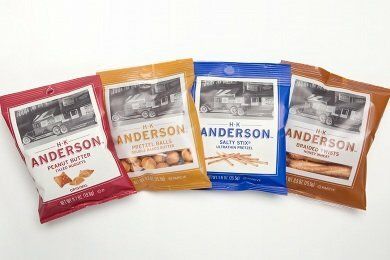 (The four-year-old crowd loves the Village People.)
We also serve snacks and one of our favorite Friday night treats is pretzels. They go well with certain bubbly beverages and they have a great CRUNCH.
Recently, I was sent a sample of pretzels from H. K. Anderson and they were delicious. There is a lot to like about pretzels because they are baked rather than fried.
When you compare a pretzel snack to let's say -Doritos - you are getting much fewer ingredients, preservatives, and artificial flavors by choosing pretzels. Pretzels are basically flour and salt baked until crunchy. They aren't as good for you as an apple - but they are a much healthier choice on the chip aisle.
Before meeting H. K. Anderson, I just bought whatever pretzel was the cheapest on the shelf. I know it is hard to believe, but these are different. They just taste better.
My favorite was the "peanut butter nuggets". Basically, it is a round pretzel filled with peanut butter so you get some protein with your snack. 10 nuggets will set you back only 140 calories which is a good size for a snack. (7g fat, 15g carbohydrate, 2 g protein, 2 g fiber)
I also like just plain pretzels dipped in mustard. So yummy!
So get your groove on tonight, eat some carrot and celery sticks and some pretzels!
Check out Where to Find Us on the H. K. Anderson site. Also, take a look at their Facebook page: HK Anderson Pretzels where they host frequent giveaways.
H. K. Anderson is giving away a sampler pack to a lucky Snack Girl reader.

Comment below on your favorite CRUNCHY healthy snack for a chance to win.
This product was received for review consideration. No other compensation was provided.
---
What will I win?
An pretzel assortment from H. K. Anderson containing their Peanut Butter Filled Nuggets, Double Baked Butter Pretzel Balls, Ultrathin Salty Stix, and Braided Honey Wheat Twists ($20 value).
How do I enter?
Comment below about your favorite CRUNCHY healthy snack.
Additional Ways To Enter:

Follow Snack-Girl on FaceBook.

Comment on our wall about your favorite CRUNCHY healthy snack.

Follow Snack-Girl on Twitter

Tweet this post (use the Tweet Button in the Share Box at the top of this post).

Snack-Girl can follow and count all the additional entries using magical website tools.
Am I eligible to enter?
This giveaway is offered to US residents only.
When do I find out if I am the winner?
The winner will be announced on November 19th, 2010. You will have 2 weeks to e-mail us back with your home address so we can mail the prize. -
Want to read about snacks?
Want To Prevent Breast Cancer? Try This Awesome Snack
A "No Peel" Apple Recipe To Make You Swoon
Try This Pumpkin Pie Makeover For Thanksgiving