Are Egg Beaters Better Than Eggs That You Beat?
Snack Girl loves trying out food products to see how they rate. A reader asked me about Egg Beaters and I had never tried them.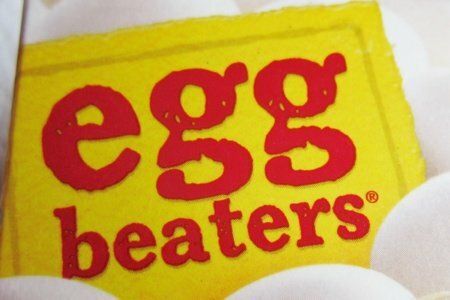 Egg Beaters, in case you didn't know, are manufactured by ConAgra. They are primarily egg whites with added flavorings, vitamins, and thickeners to make them like real eggs.
Regular eggs are produced by chickens and I hope you have identified a local brand to ensure that you get the best and freshest eggs.
First, I had to evaluate their taste. I know how eggs taste because I eat them all the time, but I had never had Egg Beaters. I decided to go with a yummy looking recipe I saw on the Egg Beater website: Bacon and Cheddar Egg Mug Scrambler.
You know, I liked it. I was surprised that anything I would pour out of a carton would really be like an egg – and this worked. Was it as good as a farm fresh egg? No, but it didn't have a weird after taste and it looked like an egg.
Here is a side by side comparison of the mega nutrients in each:
Calories: Egg = 71 EB = 30
Fat: Egg = 5 grams EB = 0
Saturated Fat: Egg = 2 g EB = 0 (2 g is 10% of the daily value)
Cholesterol: Egg = 211 mg EB = 0
Protein: Egg = 6 g EB = 6 g as well (egg whites have 3 g of protein, yolks have 3 as well)
You can see how dieters would be a fan of Egg Beaters. How about the ingredients? Eggs are simply eggs and Egg Beaters:
Egg Whites, Less than 1%: Natural Flavor, Color (Includes Beta Carotene), Spices, Salt, Onion Powder, Vegetable Gums (Xanthan Gum, Guar Gum), Maltodextrin. Vitamins and Minerals: Calcium Sulfate, Iron (Ferric Phosphate), Vitamin E (Alpha Tocopherol Acetate), Zinc Sulfate, Calcium Pantothenate, Vitamin B12, Vitamin B2 (Riboflavin), Vitamin B1 (Thiamine Mononitrate), Vitamin B6 (Pyridoxine Hydrochloride), Folic Acid, Biotin, Vitamin D3
Is this the robo-food that Michael Pollan warned you about? Actually, I don't think that egg whites, spices, and added vitamins and minerals is really that terrible. What I do think is that a regular egg has the nutrients packed in it with the fat and that nutrient uptake by your system is facilitated by fat.
In other words, you might not get the same amount of nutrition from the Egg Beater as from a regular egg. I doubt anyone has done a study.
As for the cholesterol, the American Heart Association says that you can eat eggs in moderate amounts (1 per day) as long as you keep the rest of your animal protein consumption in check. The link between dietary cholesterol and heart disease is under debate.
My suggestion (if you want to cut calories with Egg Beaters) is to hedge your bets. Mix a regular egg with some of the Egg Beater to get more volume and less calories.
What do you think of Egg Beaters? Please share.
---
Other posts you might like:
---

Are you bored with hard boiled eggs? Yeah, they are dull. Let me introduce you to an old friend...
---

Does anyone else get concerned when they see a tag like the one above? Ninety-seven cents for eggs?!!
---