Are Eggs Evil?
This is a good time of year to talk about chicken eggs. I receive a bunch of questions about them so I thought I would try to answer them.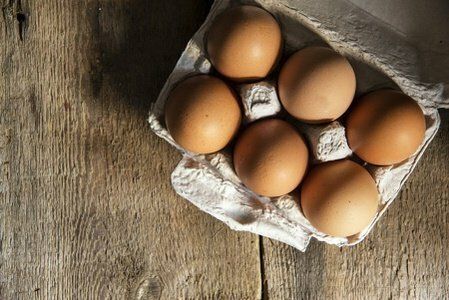 From Erica:
I am an active 40-year-old woman who has normal cholesterol and recently started on the egg bandwagon of boiled eggs for a mid-morning snack.
It's hard for me to break away from the past notions that eggs are linked to high cholesterol. Can a person who is reasonably fit and has normal cholesterol eat a hard-boiled egg daily?
I feel like I'm doing the nutritional equivalent of eating a pound of butter at breakfast by eating an egg a day.
Wow! A pound of butter! Erica is feeling really guilty. Hang in there, Erica.
I must say that I am completely annoyed with how long it takes for dietary guidelines to change after scientific research has shown that eggs aren't evil.
Eggs were considered evil because they contain a high level of cholesterol.
High levels of bad cholesterol found in your blood increase your risk for a heart attack. This led to the thinking that you need to eat less cholesterol to decrease the levels in your system. Eggs have a lot of cholesterol so it made sense to avoid them.
BUT! And this is a very big BUT. It turns out that if you eat a lot of cholesterol it doesn't end up in your blood. The cholesterol that you eat gets broken down in the stomach and tossed out or used to make bile acids to help you digest food.
A friend of mine with a high bad cholesterol number recently cut out red meat and eggs. After six months of restrictions, his bad cholesterol number didn't shift down. He credits his high cholesterol number to the genetics of his family.
Where do you get all that BAD cholesterol if it isn't from your diet? You get it from your body. Every cell in your body makes cholesterol (those rascals).
Are there foods that increase your cholesterol levels? Yes! Trans fats and saturated fats (meat, daily) raise your total cholesterol.
Here is a great article about foods and strategies that can lower your overall cholesterol level: 11 Tips to Lower Your Cholesterol. It mentions that eggs are not implicated in the crime.
The sad thing about fear of eggs is that people might reach for less healthy foods at breakfast (like crappy cereals) because they don't know it is okay to eat them.
Eggs are inexpensive, fast to cook, low in calories, and nutritious. You can't go wrong eating them!!
Here are some "eggcellent" recipes for your perusal:
Do you eat eggs? How do you serve them?
---
Other posts you might like:
---

Does anyone else get concerned when they see a tag like the one above? Ninety-seven cents for eggs?!!
---

Yes, this photo does look like "deviled" eggs, but Snack Girl has a fix to make them much less evil....
---