A Nutritious, Nutty, and Chocolately 100 Calorie Snack
It is not easy to combine the words "chocolate" and "100 calories" in the same sentence. While Dark Chocolate is nutritious, you have to be careful with the quantities.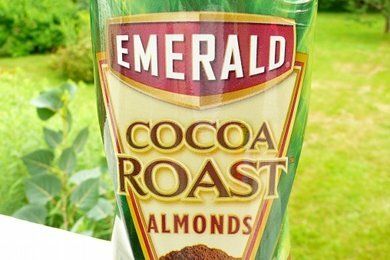 Emerald Cocoa Roast Almonds provide a solution for that late afternoon chocolate craving. They are not to be confused with chocolate covered almonds, which are a lot more fatty.
These are just roasted almonds coated in cocoa powder, and they are really delicious.
My only concern with these is that one of the ingredients is sucralose, an artificial sweetener. My stand on artificial sweeteners is that there are natural sweeteners such as Honey and Maple Syrup that have nutrients in them! So, use those to sweeten your food and stay away from chemical sweeteners when possible.
But, I am making an exception for these almonds because they taste REALLY good and sucralose is the last ingredient on the ingredient list.
I wrote to Diamond Foods (producer of Emerald nuts) to find out how much sucralose is included but they wouldn't tell me (secret recipe).
My kids, who won't eat roasted almonds (what is wrong with them?), liked these nuts A LOT.
There is a trade off between a little artificial sweetener and a lot of nutrition. Nuts are absolutely packed with goodness - 17% of your daily value Vitamin E, 4% of your DV of Iron, 3 grams of protein and that is just 10 OF THEM! (take THAT Oreos!)
So, what am I to do? I give them these nuts as a snack. Please share your opinions on this trade off.
Some more things to like (for adults):

They come in 100 calorie packs! Do NOT buy a big jar like I did - they are hard to stop eating.
They are portable and don't need refrigeration. Just toss a bag in your briefcase, backpack, purse, etc.
Do you have a "go-to" nut?
---
currently unavailable Buy on Amazon.com
As an Amazon Associate I earn from qualifying purchases.
---
Want to read about snacks?
Healthy Beach Snacks
A Healthy Choice at McDonald's
An Amazing Apple Pie Makeover In Two Minutes
How To Choose Healthy Peanut Butter