Exciting Food to Make With Cauliflower
Don't you find cauliflower exciting? No?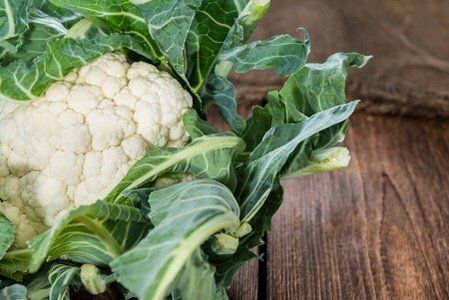 Well, I don't either but you can make it into something different and wonderful with a little work.
Cauliflower is worth the effort because it is an an excellent source of vitamin C, vitamin K, folate, pantothenic acid, and vitamin B6. It is a very good source of choline, dietary fiber, omega-3 fatty acids, manganese, phosphorus, and biotin. Additionally, it is a good source of vitamin B2, protein, vitamin B1, niacin, and magnesium.
Ummmm, Krispy Kreme donuts can't compete. Put down the donut and pick up some cauliflower.
(ooh and I forgot to mention it is incredibly low in calories)
Try these cauliflower recipes and let me know if you start eating more of it.
1.

A Buffalo Cauliflower Recipe For The Snack Girl Recipe Swap

2.

Add A Little of This To Your Cauliflower

3.

Alfredo Meet Cauliflower: An Amazing Lighter Sauce

5.

See How Easily You Can Turn Cauliflower Into An Awesome Snack

How do you serve cauliflower?