Add A Little of This To Your Cauliflower
Snack Girl is forever trying to sell you cauliflower. You can never have enough cauliflower in my opinion.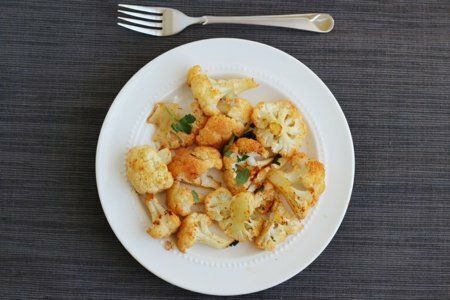 Cauliflower is one of those low calorie, nutrient filled foods that everyone tells you to eat. Do you eat it? I see a few hands up.
For those who avoid it, I think now is the time to try it again. I bought a large cauliflower for a whopping $2 so there isn't much risk here. If you want to be healthy, you must find ways to enjoy vegetables.
My favorite way to cook cauliflower (which I included in my book is to roast it – see: oven roasted cauliflower). This recipe also uses the roasting technique but adds a new spice.
Smoked paprika is not hard to find. It is next to the other paprika in the spice section of your supermarket. This stuff is GREAT. How do they make it? They smoke and dry sweet peppers. I have seen McCormick brand in my Stop & Shop.
The cauliflower is a perfect vehicle for any flavoring agent because it is so bland. The smoked paprika/salt combo is so tasty that you can't stop eating it and the best part is you don't have to!
Have you tried smoked paprika?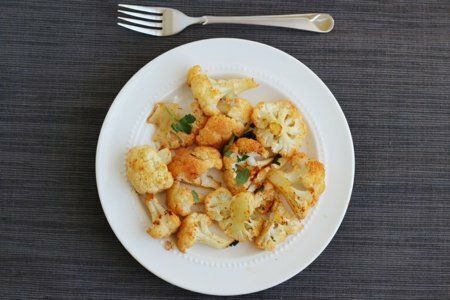 Smoky Cauliflower Recipe
Makes 4 servings, 1 cup per serving
Ingredients
1 large head cauliflower, broken into 1-inch florets
1 tablespoon extra-virgin olive-oil
1 teaspoon smoked paprika
¾ teaspoon salt
2 tablespoons minced fresh parsley, optional
Instructions
Preheat oven to 450 F. Line a large rimmed baking sheet with aluminum foil (for easy clean-up).
Place cauliflower in a large bowl. In a small bowl, mix together olive oil, paprika, and salt. Drizzle over cauliflower and toss with your hands to fully coat. Put cauliflower on the lined baking pan and roast for 15-20 minutes or until tender.
Toss on parsley (if desired) and serve immediately. Can be enjoyed hot, cold, or room temperature.
Nutrition Facts
For a one cup serving = 85 calories, 3.8 g fat, 0.5 g saturated fat, 11.6 g carbohydrates, 5.1 g sugar, 4.3 g protein, 5.5 g fiber, 502 mg sodium, 2 Points+
Points values are calculated by Snack Girl and are provided for information only. See all Snack Girl Recipes
Other posts you might like:
---

Last month, I featured a recipe swap with carrots as the featured vegetable. Thanks so much for sharing your recipes.
---

This low calorie rice is a win-win substitute for real rice......
---
---
Get Free Email Updates! Yes please!
---