Keep Eating Healthy in February with Slender Kitchen Meal Plans
I wrote about Slender Kitchen Meal Plans back in January and I want to talk about them again because it is February.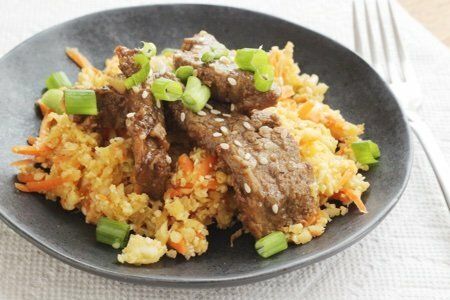 Slender Kitchen Meal Plans make life easy because they include recipes, shopping lists, and nutritional information (including SmartPoints) to help you eat healthier.
You can sign up here - Slender Kitchen Meal Plans for either $8 per month or $48 for the year ($4 per month). Both subscriptions include a 14 day money back guarantee.
The meal plans include options:
For healthy, low carb, or vegetarian
To customize number of servings you plan to cook
To choose the meals you need to make for the week
I made Sesame Beef and Low Carb Cauliflower Fried "Rice" from week five of Kristen's plan and it was A HIT.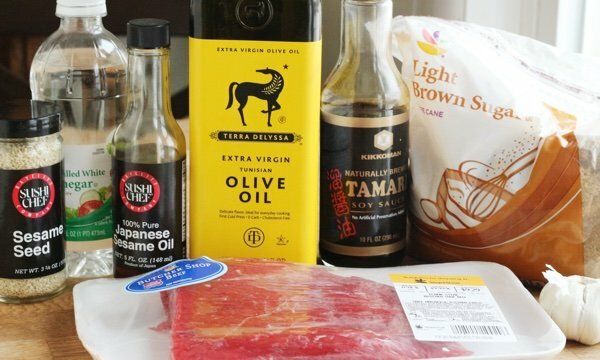 This was one of the meals in the plan that I saved for Saturday because it was time intensive but I loved the result.
The first recipe – Sesame Beef – used flank steak as a lean source of protein. It is running $10 per pound where I live so it is good to savor it.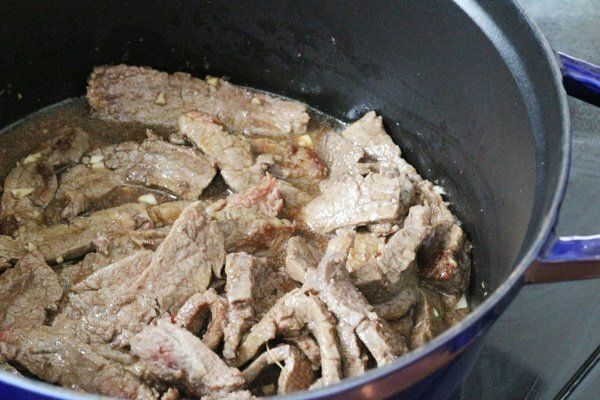 The recipe is really simple. You brown the beef and then toss it in the oven with spices and broth. My kids went nuts over this and demanded that I make it again.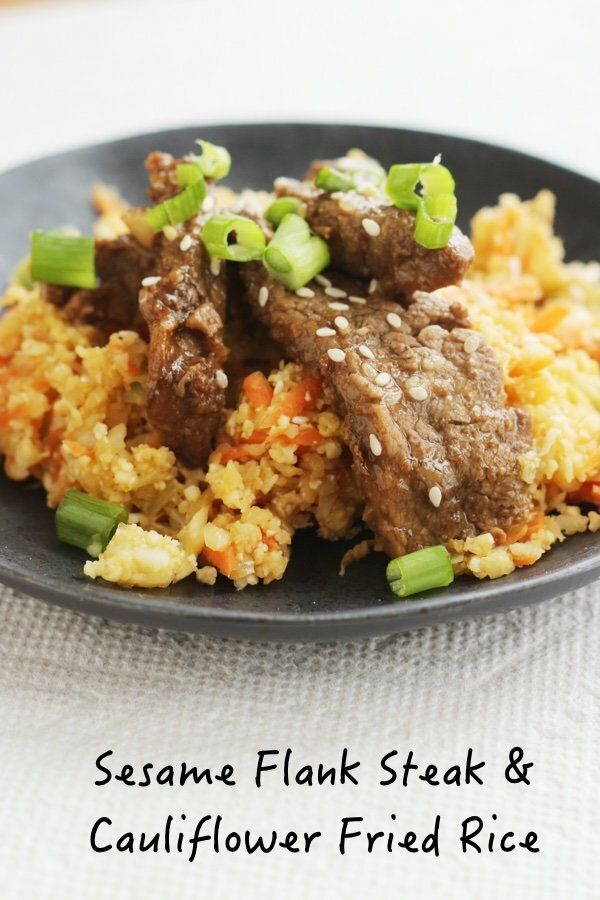 Sesame Beef Recipe
reprinted with permission from -Slender Kitchen
Makes 4 servings
Ingredients
1 pound lean flank steak, cut into strips
¼ teaspoon salt
¼ teaspoon pepper
2 teaspoons whole wheat flour
2 teaspoons sesame oil
1 teaspoon olive oil
2 garlic cloves, minced
2 teaspoons low-sodium soy sauce\ 2 teaspoons brown sugar
2 teaspoons white vinegar
1/3 cup beef broth
1 tablespoon plus 1 teaspoon sesame seeds
Instructions
Preheat the oven to 400 degrees. In a small bowl, whish the beef stock, sugar, sesame oil, garlic, soy sauce, and white vinegar together. Set aside.
In another bowl, toss the beef with the salt, pepper, and flour.
In a large oven-safe pan, heat the olive oil over medium heat. Once hot, add the beef in one layer. Cook for three minutes on one side until seared and then flip and cook for another three minutes on the other side.
Add the beef stock mixture and place the entire pan in the oven (uncovered). Cook for 15-20 minutes. Then toss the beef with sesame seeds and serve.
Nutrition Facts
½ cup serving is 235 calories, 12 g fat, 4 g saturated fat, 4 g carbohydrates, 2 g sugar, 26 g protein, 1 g fiber, 292 mg sodium, 5 SmartPts
Points values are calculated by Snack Girl and are provided for information only. See all Snack Girl Recipes
The recipe that Kristen paired with the beef is a "fried" version of cauliflower rice so it is very low carb.
As you all know, I am a big fan of cauliflower so I knew I was going to like this.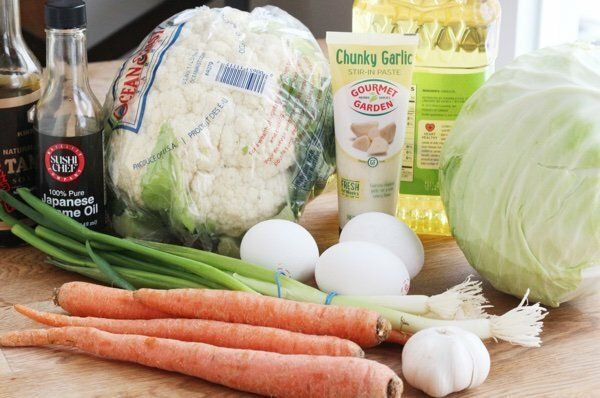 Before you combine the ingredients you must "cook" the cauliflower rice which means you put it in the microwave for 2 minutes until it softens. Take THAT real rice.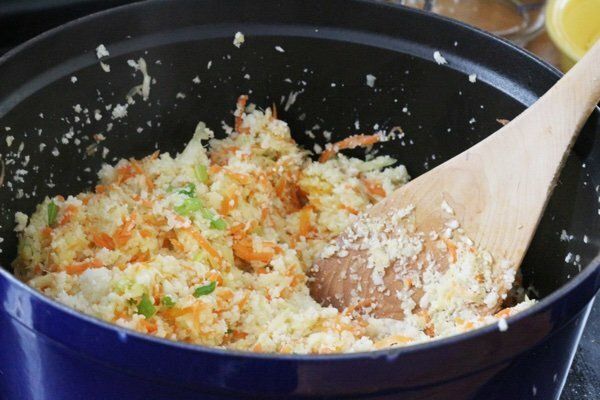 I thought this was easy and while it did not taste like real fried rice (not as greasy or heavy) – it was delicious.
Two short cuts:
Use a bag of prepared coleslaw mix instead of buying a cabbage and carrot.
Use a tube of minced ginger (instead of mincing it yourself).
I cut the amount of soy sauce that I used for this recipe in half and it tasted delicious. If you are cutting down your sodium, don't hesitate to adjust this recipe for your needs.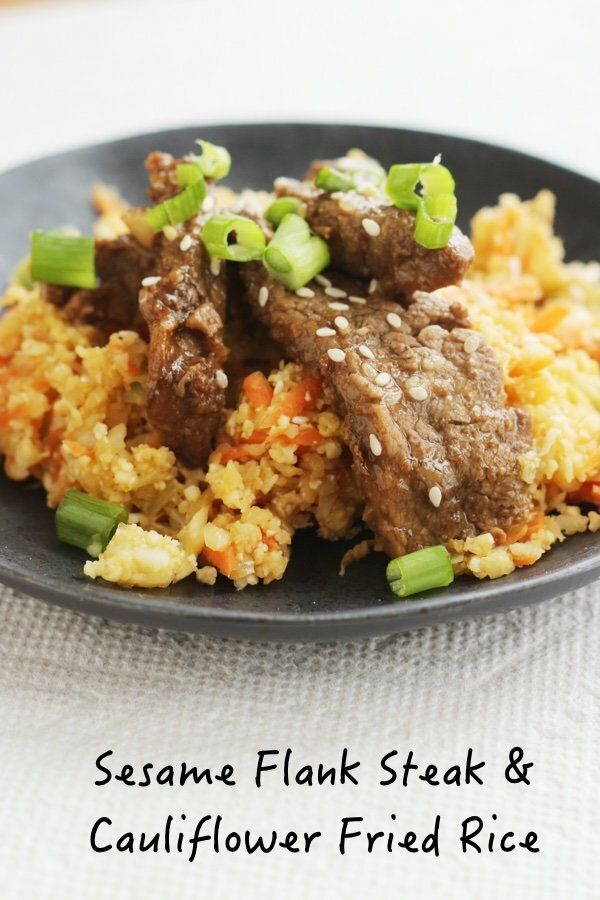 Sign up here - -Slender Kitchen Meal Plans to get going.
Snack Girl has an affiliate relationship with SlenderKitchen.com and receives a percentage of sales.
---
Low Carb Cauliflower Fried "Rice"
reprinted with permission from -Slender Kitchen
Makes 4 servings
4 cups cauliflower florets
2 teaspoons vegetable oil, divided
1 teaspoon sesame oil
1 egg
1 egg white
5 green onions, chopped
2 cups green cabbage, shredded
1 carrot, grated
4 cloves garlic, minced
2 teaspoons fresh ginger, minced
2 tablespoons soy sauce
Place the cauliflower in a food processor and pulse until in small rice like pieices. Microwave or steam for 2-4 minutes until soft.
Heat your pan over medium-high heat. Whisk together the egg and egg white and season with salt and pepper. Add 1 teaspoon of vegetable oil to the pan. Add the eggs and cook until just scrambled. Remove from pan and set aside.
Add the remaining vegetable oil and sesame oil to the hot pan. Add the scallions, cabbage, carrot, garlic, ginger, and any other veggies you like. Cook for 1-2 minutes until they just begin to soften. Add the cauliflower rice and cook for 2-4 more minutes, stirring constantly, until the rice begins to crisp up. Add the soy sauce and egg. Stir together and cook for one minute.
110 calories, 5 g fat, 1 g saturated fat, 12 g carbohydrates, 5 g sugar, 6 g protein, 4.0 g fiber, 533 mg sodium, 2 SmartPts
Other posts you might like:
---

This is the time of year when everyone goes nuts trying to reboot. I am one of those crazies right now....
---
---
Get Free Email Updates! Yes please!
---