Should Kids Drink Juice?
A bottle of juice (Minute Maid Juice) inspired the creation of Snack Girl. The ingredient list was a shock to me after I had willingly purchased this drink for my daughter.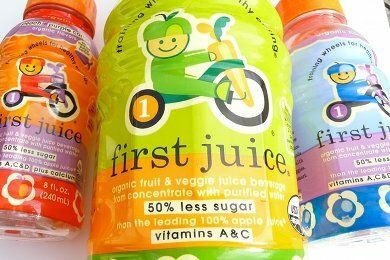 The marketing on the bottle had tricked me into believing I was giving my daughter a healthy drink. HA! And, I decided to help others decode food packaging by creating this site.
I probably shouldn't have titled this post, "Should Kids Drink Juice", because it is impossible for me to give a definitive answer. The best advice I received was from my pediatrician who told me that juice is a treat.
She said, "Don't give it to your kids if they are really thirsty." Makes sense, doesn't it? Water should quench thirst, juice is a sweet treat.
We shouldn't chug juice because it is mostly sugar with a few nutrients. Some would call juice "empty" calories.
But, I like juice and so do my kids! What to do?
Well, First Juice sent me some of their product a while back and I think it is a nice solution to the juice dilemma. It features 50% less sugar than the leading 100% apple juice. How do they do it? The first ingredient in the bottle is water.
You are essentially buying watered down organic juice to give your kids. My kids loved this stuff, especially the blueberry and purple carrot juice, and they didn't notice the lack of sugar. This may be because my husband came from a family of frugal juice drinkers.
He buys a container of juice, pours out 1/2 of it into another container, pours in water, and stores both in the fridge. He saves money and the kids haven't noticed because they never get "full strength" juice.
I don't actually like the watered down juice because I grew up with 100% juice, so I just don't drink it (hey, we save more money!).
First Juice costs about $4 for 32 fl. oz., is organic, and it tastes a bit more sour than regular juice. They also incorporate carrot juice with the sweeter fruit juices like apple and peach. And, they have these cute little sippy cup containers that you can grab and go with. They even suggest you reuse them!
Adults who want to try to reduce their juice intake should try this stuff. You can find it at Whole Foods - or check their Store Locator
This product was received for review consideration. No other compensation was provided.
Do you drink juice or give your kids juice?
---
Want to read about snacks?
How To Pick A Healthy Jam or Jelly
Kale Chips
A Nutritious, Nutty, and Chocolately 100 Calorie Snack
Are You on A See Food Diet?