You Don't Need Sugar For A Refreshing Summer Drink
It is FINALLY beginning to heat up here in the middle of nowhere and Snack Girl loves cold drinks when it is hot outside.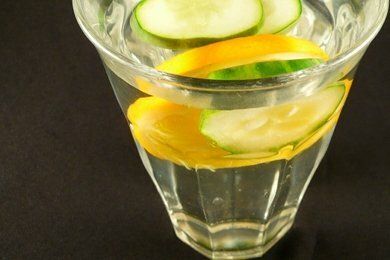 Unfortunately, her favorites (beer, lemonade, beer and lemonade.....) are not so great for keeping off the pounds.
Last year, I wrote about "Cucumber Orange Water" and it was an instant hit! I decided to share it again because many of you might have missed it (the site has grown) and I thought it would be good to remind the others about it.
The concept is simple. You slice a cucumber and an orange and just let it steep in cold water. The taste? Refreshing and surprisingly you don't notice the lack of sugar.
The flavor of the orange and the cucumber are enough. Really.
Which brings me to Crystal Light - which is another way to add zero calories to water and have it taste like something. My problem with Crystal Light is the taste - and I tried the new one with Stevia (15 calories per serving - they sent me some to sample).
There is a BITTER finish and, to me, it tastes artificial. While I know Crystal Light is a great option for many who don't want to drink soda - I think that the "fresher" option is better.
As you continue on your healthy eating journey, you will find that fresh food tastes much better than processed food when you give it a chance.
The first time I experienced this orange cucumber water was at a spa (back when I had time and money). After you sat in the steam room, there was a table with pitchers of cold water with these slices in it.
Why it took me 4 years to attempt this on my own is a mystery. But, it is worth it. Get out your chopping board and make some YUMMY water.
A Snack Girl reader told me about a pitcher she uses that helps her infuse her water with flavor (see below). This sounds like a great gift idea for summer (for YOU of course :).
How do you make your water delicious?
Crystal Light was received for review consideration. No other compensation was provided.
---
Cucumber Orange Water Recipe
1 orange
1/2 cucumber
6 cups water
Cut orange in half then thinly slice into half circles. Thinly slice 1/2 cucumber. Add cucumber and orange to a pitcher. Add 6 cups water to pitcher. Chill in refrigerator and drink within 2 days.
---
$31.90 $24.94 Buy on Amazon.com
As an Amazon Associate I earn from qualifying purchases.
---
Want to read about snacks?
Who Else Wants Restaurant Quality Indian Food Without The Calories?
Does A Breakfast of Frosted Mini-Wheats Help You Focus?
Hate Bananas? Try These Pumpkin Bites
Why Don't Americans Serve Eggs Like This?