This Muffin Can Save Your Life
I know what you are thinking. How can a muffin save a life? Don't we usually use things like electrified paddles?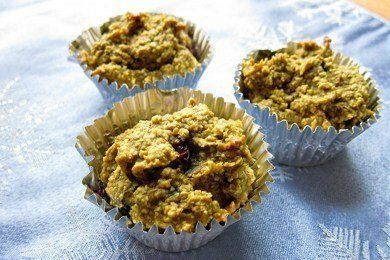 This muffin is unique because it was made without any animal products. That's right folks, no butter, milk, or eggs in this recipe and you know what? They taste pretty good.
In fact, they lasted all of 10 minutes in my kitchen after I made them.
The life saving benefits of this muffin are attributed to the fact that they are made from plants. Last year, I wrote an article: How Did Bill Clinton Lose All That Weight? I talked about a research study where 82% of people that changed to a plant based diet have healed their arterial blockages.
The research was done by Caldwell Esselstyn, JR, M.D. and really influenced Clinton on how he chose to combat his heart disease. Another "plant based eater" player is T. Colin Campbell who authored "The China Study".
This study examines more than 350 variables of health and nutrition with surveys from 6,500 adults in more than 2,500 counties across China and Taiwan, and conclusively demonstrates the link between nutrition and heart disease, diabetes, and cancer.
And guess what the healthiest participants ate? They stuck to a whole food, plant based diet and lived long healthy lives.
You don't have to read their studies or books to learn about these two scientists' perspectives. You can watch a movie! (preferably with air popped popcorn :)
A new documentary, "Forks Over Knives" (see below), explains their research and helps to promote their ideas. The book, "Forks Over Knives" is a companion to the movie. The book supports people with some entirely plant based recipes such as the one below.
The book and the movie are powerful in explaining the benefits to long term health by eating a plant-based diet.
When, I baked these blueberry oat muffins and I made a few recipe changes. First, I couldn't find sweet potato puree so I went with pumpkin puree (which you can find in the baking section). Secondly, I used oat flour and I made my own.
How do you make oat flour? You just put a little more than 2 cups of whole rolled oats in your food processor and run it until it looks like flour. It worked great!
These make a great "grab and go" breakfast or afternoon snack.
Have you done any "muffin makeovers"?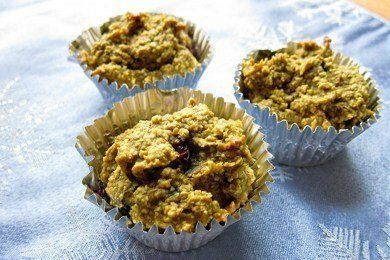 Blueberry Oat Breakfast Muffins Recipe
Recipe is produced by the permission of Julieanna Hever. Available in Forks Over Knives: The Plant-Based Way to Health. Published by The Experiment, July 2011, available wherever books are sold, $13.95. To order bulk copies contact: info@theexperimentpublishing.com.
(MAKES 12 MEDIUM MUFFINS)
Ingredients
1 medium banana, mashed
One 15-ounce can sweet potato puree
¼ cup 100% pure maple syrup
1 teaspoon vanilla extract
2 cups whole oat flour
½ teaspoon baking soda
½ teaspoon baking powder
½ teaspoon salt
1 teaspoon ground cinnamon
½ teaspoon ground nutmeg
¼ teaspoon ground ginger
1 cup fresh or frozen blueberries
Preheat the oven to 375°F. In a large bowl, combine the mashed banana, sweet potato puree, maple syrup, and vanilla extract.
In a small bowl, combine the oat flour, baking soda, baking powder, salt, cinnamon, nutmeg, and ginger. Transfer the mixture to the large bowl and mix together gently until well combined. Avoid over-mixing to prevent toughness in the final product.
Fold in the blueberries.
Spoon the batter into silicone muffin cups and bake for 20 minutes or until the muffins are lightly browned. Remove from the oven and let cool for 5 minutes. Store the muffins in an airtight container.
Instructions
For one muffin: 111 calories, 0.3 g fat, 24.7 g carbohydrates, 2.4 g protein, 1.2 g fiber, 150 mg sodium, 3 Points+
Points values are calculated by Snack Girl and are provided for information only. See all Snack Girl Recipes
$19.95 $9.83 Buy on Amazon.com
As an Amazon Associate I earn from qualifying purchases.
---
$19.98 $11.69 Buy on Amazon.com
---
Other posts you might like:
---

Anybody else sick of packaged cereal bars? But, they are just SO easy and fast....
---

Snack Girl remembers the day when she met her first vegan - and she thought, "What is WRONG with you?"....
---
---
Get Free Email Updates! Yes please!
---