How Frani Lost Over 74 Pounds
Above is a photo of Frani now, she has lost over 74 pounds in 16 months and graciously submitted to an interview with Snack Girl.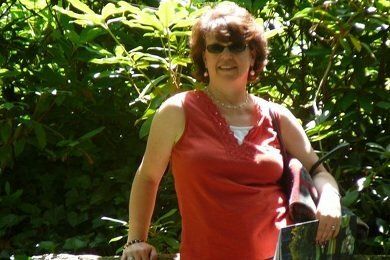 I love stories about regular people who figure out how to make big changes. The work that Frani has done is inspiring to me and I learned a lot from her story.
Here is her before photo: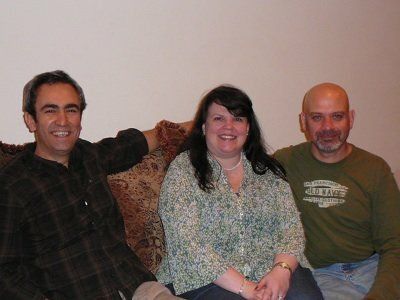 Snack Girl: What would you say is the biggest factor in your weight loss success?
Frani: I became a Weight Watchers Lifetime Member in 1989. I've never been back to goal since then although I've come close a few times by returning to the Weight Watchers plan (no other plan has been a big success for me and trust me, I've tried them all).
This time around I approached my weight loss journey as a lifestyle change, not a diet. This is just the way it is - forever - get over it and move on. It works if you work it. The other big factor is technology - having so many websites and blogs available, not to mention smart phone apps, to help with calculating and tracking is a huge help.
Snack Girl: When you didn't lose weight for a few weeks - how did you keep motivated?
Frani: Even after 16 months of losing weight I still have people tell me several times a week that they are proud of me, that I look great, or that I inspire them. Knowing that my successful journey can help others helps me too.
Also, surprisingly, I now crave exercise and even if I don't lose one week I know I was successful if I worked out that week. Finally, my biggest motivation is my husband (bald man in photo above) - his support and encouragement have been instrumental in keeping me on track.
Snack Girl: What foods and habits were the most difficult for you to give up and change?
Frani: I am so disciplined for breakfast, lunch and daytime snacks but once dinner is over I want to munch.
I've tried different ways of controlling this such as trying to limit foods after a certain time and treating myself with healthier foods like yogurt, fruit or baked chips (my red light food for sure).
I usually leave myself 2-3 Weight Watchers points plus at the end of the day so I stay within my daily points total and don't feel bad for the post-dinner snack.
Snack Girl: What advice would you give to your "70 pound heavier" self?
Frani: "Stop looking for a quick fix. You didn't gain all of this weight in 3 months and it won't come off that fast either."
It has taken me 16 months to lose 74.8 pounds and I have 4.6 pounds left to get to goal. I really believe that taking my time has enabled my body to adjust to the lower weight at a reasonable rate and I'm much more toned than I thought I would be.
Snack Girl: What is your favorite snack?
Frani: I've gone through phases over the last year and a half - low fat frozen yogurt, rice cakes with Laughing Cow cheese wedges, fruit once it became zero points plus on Weight Watchers last November, but my all time favorite snack is potato chips.
I used to buy the family size bag and could eat the whole thing in one sitting but now I only buy the individual bags of the baked chips. I'm happy to say I haven't felt the need to open more than one bag on any particular day - that's a big achievement for me.
I want to thank Snack Girl for the opportunity to share my story and to tell everyone out there who is struggling with their weight that it is possible to succeed if you are realistic about your goals and your plan to get there.
Snack Girl: Thank YOU, Frani! We are inspired by you and many others who are getting healthy.
Other people who have been featured on Snack Girl
How Annabel Lost 150 Pounds
How Candice Lost 80 Pounds and Changed Her Life
How Shawn Stopped Drinking 10 Cans of Dr. Pepper per Day

Want to read about snacks?
Five Reasons To Avoid A Lunchable
All You Need Is Five Minutes For Fitness
Comfort Food Made Healthier
Healthy Baked Oatmeal **VIDEO**