Comfort Food Made Healthier
Anyone else like sloppy joes? This sandwich consists of ground meat, onions, and mystery sauce from a can served on a bun.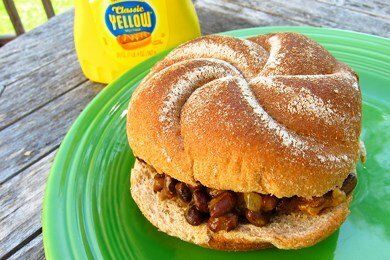 My mother used to "cook" these for us - and I had forgotten about them until recently. I found out that my husband, who is applying to become a U.S. citizen, has never had a sloppy joe.
I felt for sorry for him. Never had a sloppy joe! You haven't lived!
But, even more unbelievable, he hadn't seen Kevin Nealon dressed as a sloppy joe. Yes, I am dating myself here - how many of you think of Adam Sandler and his rendition of "Lunch Lady Land" when you think of sloppy joes?
See below - and do not stop watching until you see the dancing sloppy joe!
Slop, sloppy joes.....slop, sloppy joes...
Right! So now that I have oriented you to the cultural importance of this sandwich, I am going to change it. Why shift an American icon?
I think I can make it just as delicious and healthier and no one will notice! I am going to remove most of the ground meat and use canned black beans.
Sacrilege? Maybe, but it is cheaper, healthier, and more environmentally sound to eat less meat and while I think a sloppy joe without ANY ground meat is a bad idea- mixing in some beans turns out to be a pretty good idea.
You see, the beans are fiber filled, low calorie, high protein and they go great in the sauce! And, the amount of meat added gives it that meat taste so necessary here to make it delicious.
We don't have to give up taste and flavor to have a healthier option. Just add less meat and it works. Really.
It is difficult to buy 1/2 pound of ground meat. So, talk to your butcher (they will give you the amount you specify) or just cut the pound in half and freeze the rest for later use.
I double dog dare you to try this recipe!
Here is another recipe where I snuck in black beans: Healthier Brownies With A Secret Ingredient.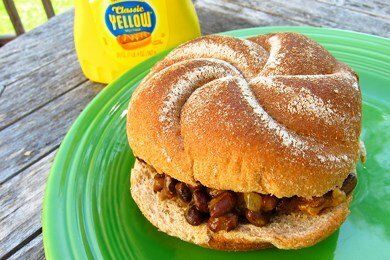 Healthy Sloppy Joe Recipe

(makes 8 sandwiches)

Ingredients
1 medium onion (chopped)
1/2 pound ground beef
2-15.5 ounce can black beans (drained and rinsed)
1 cup bbq sauce or ketchup
1/2 cup French's yellow mustard (or equivalent)
1/4 cup Worcestershire sauce
8 whole wheat burger buns

Instructions
Spray non-stick pan with non-stick spray and heat to medium high. Saute onion until softened and add ground beef. Cook until ground beef is no longer pink. Add the remaining ingredients and serve on burger buns. Enjoy!
Nutrition Facts
335 calories, 4.9 g fat, 55.3 g carbohydrates, 22.3 g protein, 11.3 g fiber, 721 mg sodium, 8 Points+
served on 1/2 bun = 265 calories, 3.9 g fat, 42.3 g carbohydrates, 19.3 g protein, 9.3 g fiber, 591 mg sodium, 7 Points+
Points values are calculated by Snack Girl and are provided for information only. See all Snack Girl Recipes
Want to read about snacks?
Top Ten Office Snacks
Kid's Menus: Is This The Best We Can Do?
This Muffin Can Save Your Life
Mix Pancakes With Oatmeal And You Get A Super Breakfast
---
Get Free Email Updates! Yes please!
---