A Freezer Cookie Pie With A Secret Ingredient
Have you ever made a pie with Jello, Cool-Whip, and a Oreo pie crust?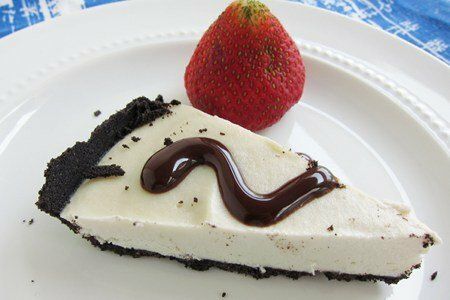 Of course you have! How easy is it? And, it almost feels like you are cooking.
Today, we are going to try to replicate a refrigerator pie, but we are going to use much healthier ingredients. One of the secret ingredients helps prevent gallstones, keeps blood pressure low, and washes your windows.
Okay, maybe not the windows.
Cashews are a healthy source of fat and magnesium. Also, nut consumption has been shown to prevent weight gain. A 28-month study involving 8,865 adult men and women in Spain, found that participants who ate nuts at least two times per week were 31% less likely to gain weight than were participants who never or almost never ate nuts.
I'm not sure if those participants put their cashews in a cookie crust, but that's not the point.
This is easy, FUN, and you get many more essential nutrients than if you had used heavy cream, ice cream, or Cool Whip for your pie.
I wasn't sure before I started this experiment whether my $50 Cuisinart blender was going to be able to handle the task, but it did. I don't think a $15 blender is up to it. If your cashew mixture is lumpy, add a little more water and continue to blend on a high speed. It took a good five minutes before I obtained the right consistency.
Have you made freezer cookie pie? How do you make it healthier?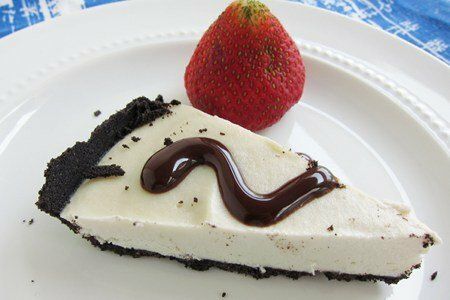 Freezer Cashew Cookie Pie
Makes 10 servings
Ingredients
1 ½ cups raw cashews
1 teaspoon vanilla extract
2 tablespoons maple syrup, agave syrup, honey, or sugar
¾ cup water
Oreo cookie crust (packaged or homemade) or graham cracker crust
chocolate sauce (optional)
Instructions
Soak cashews overnight in water. Puree cashews, vanilla, maple syrup in a blender. If it is still chunky add 1 tablespoon of water and blend. Repeat until you get a cream like consistency.
Pour into cookie crust and freeze to set. Put in the refrigerator and serve when defrosted but still cold. Add a drizzle of chocolate sauce if you so desire.
Nutrition Facts
239 calories, 14.4 g fat, 2.8 g saturated fat, 21.0 g carbohydrates, 9.5 g sugar, 3.1 g protein, 0.6 g fiber, 120 mg sodium, 9 Freestyle SmartPts
Points values are calculated by Snack Girl and are provided for information only. See all Snack Girl Recipes
Other posts you might like:
---

Here at Snack Girl headquarters clothing is optional (for the 4 and under set). This is also true of our pies....
---

Last week, I introduced Fall with a no bake pumpkin oatmeal cookie. But, I had a problem....
---
---
Get Free Email Updates! Yes please!
---