Fresh Tomato Salad with Balsamic Vinegar for Memorial Day
You don't have to have potato salad for Memorial Day but you do need this fresh tomato salad with balsamic vinegar.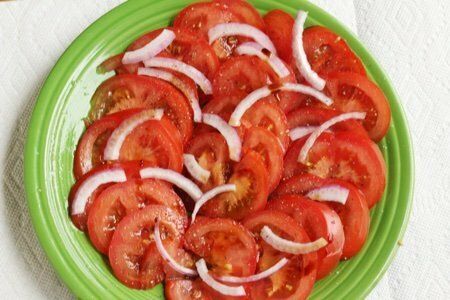 Why do we always go for the classics on our national holidays? Potato salad, macaroni salad, pasta salad, and hot dogs with big fluffy buns are what we eat to kick off summer.
Frankly, I don't like to cook if I can help it so I love this salad (and it is far lighter than a salad with mayonnaise). The one time I like to cook my tomatoes is when I make roasted tomatoes with garlic. Talk about dreamy!
Show up with this salad to your family BBQ and watch it disappear without complaint. There is something about fresh tomatoes, red onion, and balsamic vinegar that will blow away most potato salads – it tastes SO brilliant.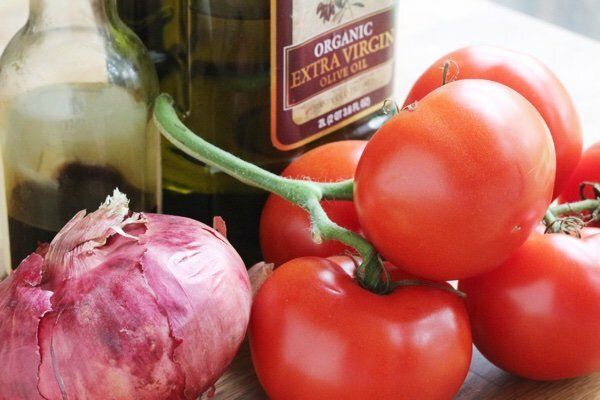 In case you didn't know, I have included a photo of a serrated knife. I was in the dark for years about this being the best knife for slicing tomatoes. When I started using it, I was amazed at how fast I can slice.
I'm not sure why tomatoes don't come with instructions on the side of them like every other thing you get at the supermarket – but they don't! The best knife for this is a small serrated knife (I used to only have a bread knife). A roommate of mine had this smaller version and I fell in love with it. He told me that I couldn't have it (waah!) so I bought my own and have been using it for 20 years. Not kidding.
Sometimes you must make an investment in an important kitchen tool.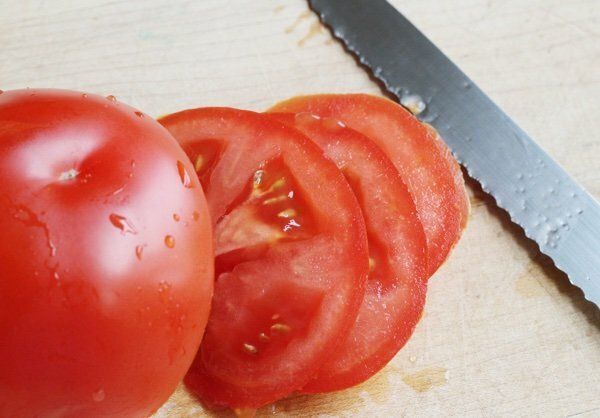 Feel free to buy the wonderful heirloom tomatoes or the tastiest tomatoes you can find. My area of the country is slow to get the best fresh tomatoes (they show up in July).
Another great recipe for uncooked tomatoes is cold tomato soup AKA Gazpacho. YUM! (all you need is a blender)
How do you serve fresh tomatoes? What do you share on Memorial day?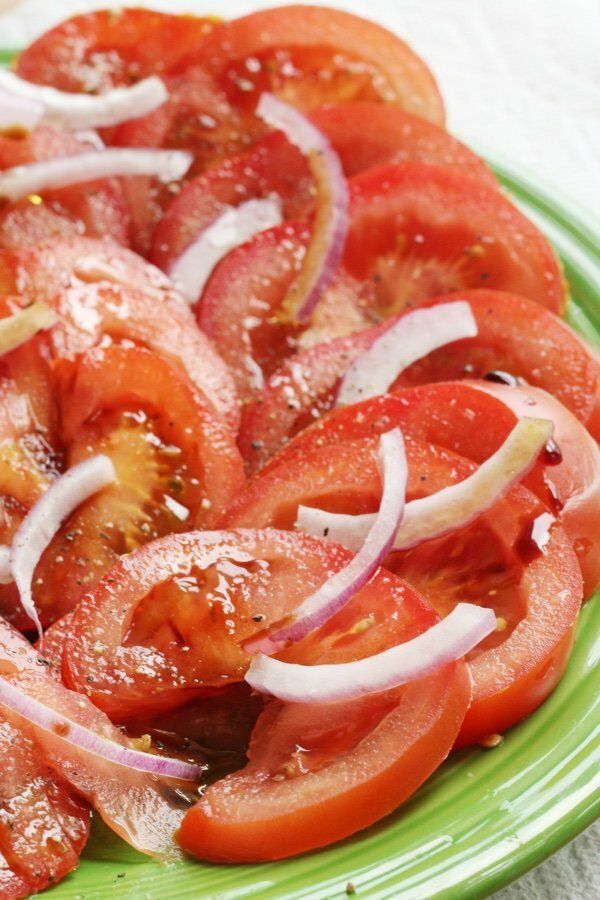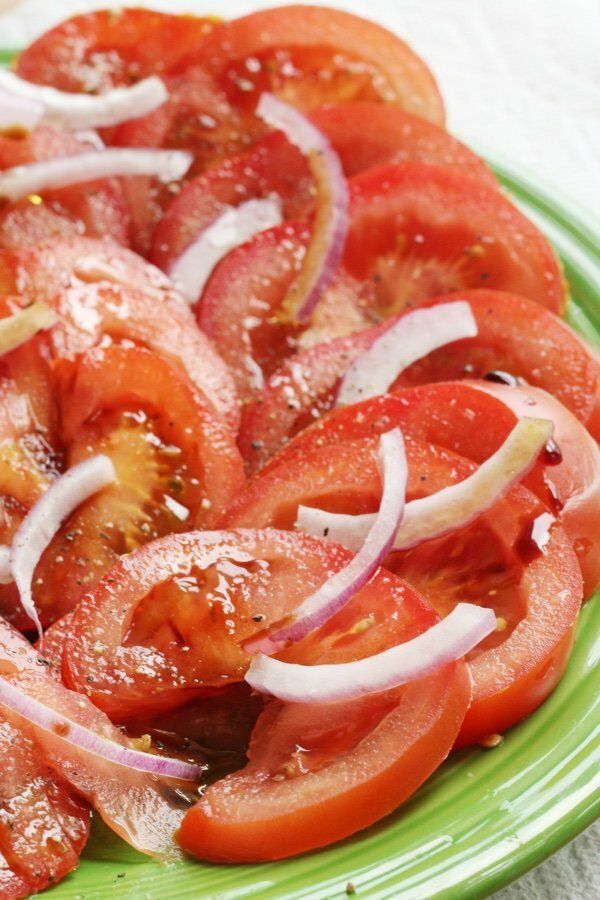 Fresh Tomato Salad with Balsamic Vinegar Recipe
Makes 2 large servings
Ingredients
3 large tomatoes, sliced
¼ red onion, thinly sliced
1 tablespoon extra virgin olive oil
1-2 tablespoons balsamic vinegar
salt and pepper to taste
Instructions
Arrange slices of tomato on a plate. Add the red onion to the top and then sprinkle with vinegar and oil. Add salt and pepper to taste and serve immediately or store for up to 5 hours (wait to add the salt and pepper until right before serving).
Nutrition Facts
One serving is 116 calories, 7.6 g fat, 1.1 g saturated fat, 12.0 g carbohydrates, 7.8 g sugar, 2.6 g protein, 3.6 g fiber, 100 mg sodium, 2 SmartPts
Points values are calculated by Snack Girl and are provided for information only. See all Snack Girl Recipes
---
Other posts you might like:
---

Do you have too many tomatoes right now? Then this roasted tomatoes with garlic recipe is for you!....
---

If you haven't tried a cold soup, now is your moment. As summer comes to and end, you cannot miss this experience....
---
---
Get Free Email Updates! Yes please!
---