Frozen Chocolate Cookie Dough Recipe
I think you need this frozen cookie dough recipe because it will stop you from eating crappy cookies.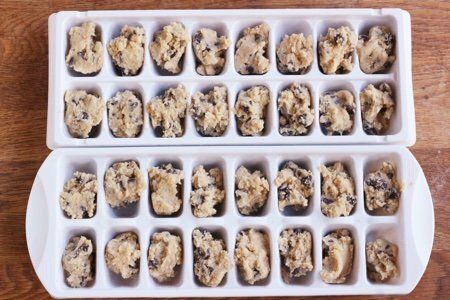 You know the cookies that I am talking about – the stale Chips-A-Hoy that someone left in the break room. If you make this recipe – I promise you will NEVER EVER EVER eat those again.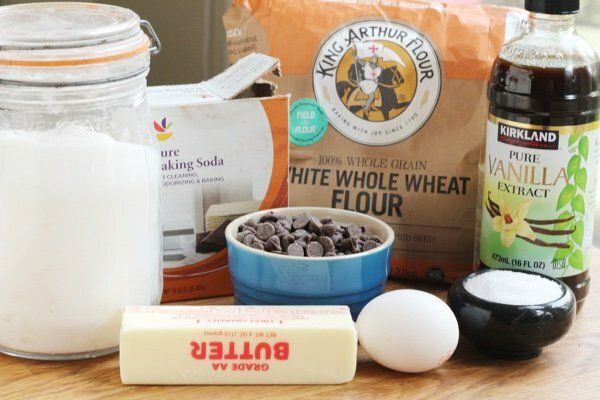 The only cookie you should eat is a homemade, fresh baked cookie. This cookie is far superior to any other cookie in the universe.
The problem, of course, is that when you make cookie dough and cookies you end up with a ton of them. This ice cube tray method stops you from having a cookie problem and allows you to have a cookie solution.
This works with my gluten-free chocolate chip cookies using almond flour for those that are avoiding gluten out there.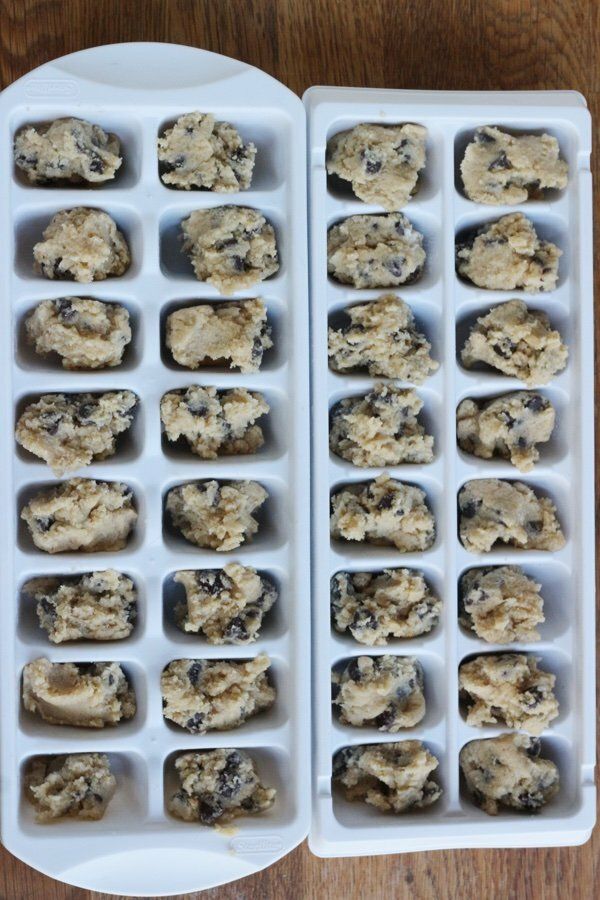 After you make the simple batter, simply put the dough in the wells of two ice cube trays (if you don't have any – you can find them at the Dollar Store) and freeze them.
I toss them into the top tray of my freezer for about 45 minutes.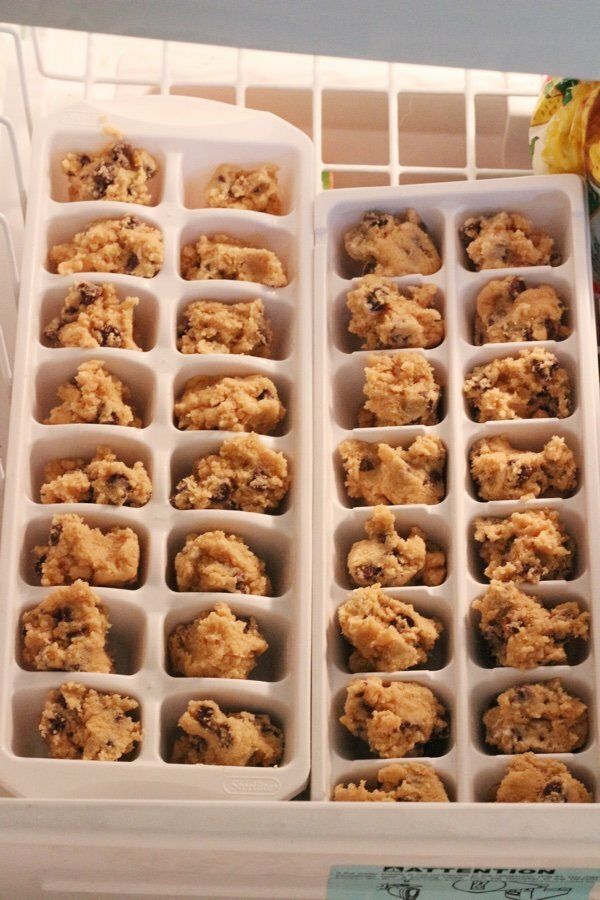 After they freeze up, they pop right out of the tray and you store them in a tightly sealed plastic bag so that they don't start to taste like the inside of your freezer.
Now, you can have ONE home baked cookie (or 2). This works great if you have a toaster oven so that you don't have to heat up the big oven for one cookie.
This technique will also make you MOM OF THE YEAR because you will be serving children fresh baked cookies whenever. Yes, even I have my Martha Stewart moments of perfection when my kids come home from school.
The best part of these cookies may be how your house smells when you bake them. Realtors bake cookies during an open house in an attempt to make the dwelling smell like home. I know I would spend extra money on a house if it smelled like cookies all the time ☺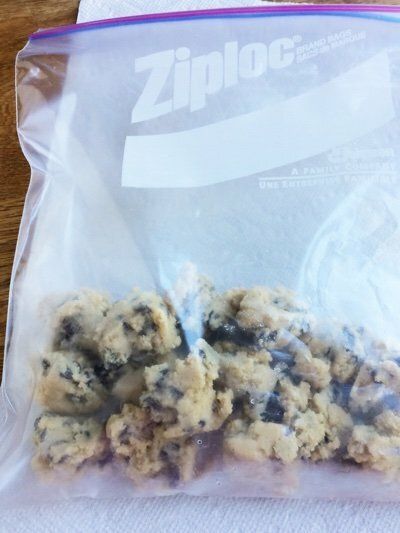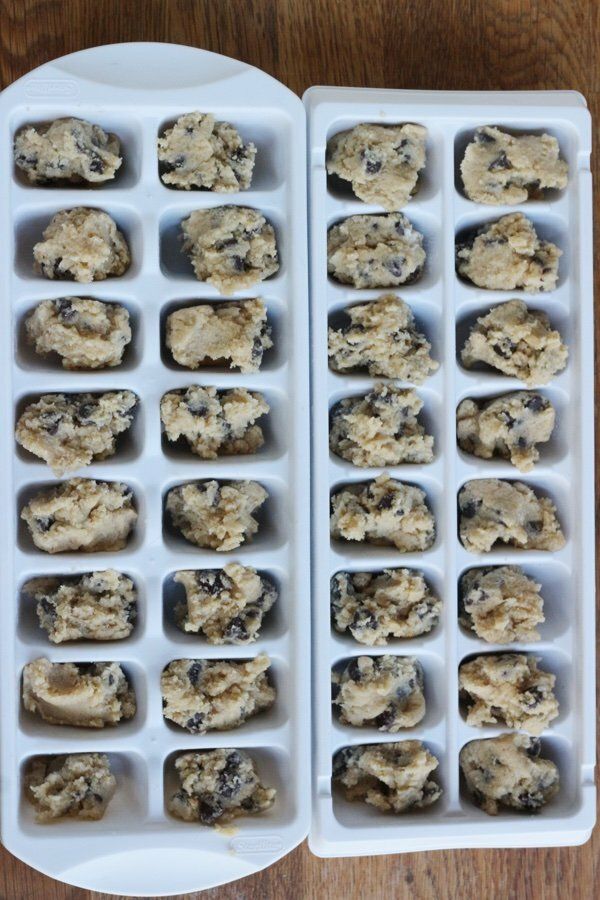 Chocolate Chip Cookie Recipe

Makes 32 frozen cookies

Ingredients
1 stick unsalted butter (8 tablespoons)
1/2 cup white sugar
1 egg
1 cup whole wheat flour
1/4 teaspoon baking soda
1/4 teaspoon salt
1/2 teaspoon vanilla
1 cup bittersweet chocolate chips

Instructions
If you have an electric mixer, cream butter, sugar and egg. If you don't, just soften butter in the microwave for 10 to 20 seconds (make sure it doesn't melt) and beat with a fork.
Add the dry ingredients, stir in by hand and then stir in the chips.
When ready to bake, heat your oven or toaster oven to 375 F. Drop the frozen batter onto an ungreased cookie sheet, and bake for about 15 minutes. Cool on a rack for 10 minutes before eating (if you can).
Nutrition Facts
For one cookie = 80 calories, 4.6 g fat, 2.9 g saturated fat, 8.9 g carbohydrates, 6.0 g sugar, 1.1 g protein, 0.6 g fiber, 57 mg sodium, 4 SmartPts
Points values are calculated by Snack Girl and are provided for information only. See all Snack Girl Recipes
For one cookie = 80 calories, 4.6 g fat, 2.9 g saturated fat, 8.9 g carbohydrates, 6.0 g sugar, 1.1 g protein, 0.6 g fiber, 57 mg sodium, 4 SmartPts
---
Other posts you might like:
---

Do you have a party where everyone brings their favorite cookies and recipes?....
---

These were much better than I thought they were going to be....
---
---
Get Free Email Updates! Yes please!
---