Heavenly Fresh Ginger Cake From David Lebovitz
Do you want to blow your guest minds at your next holiday party? Trust me, bring this cake.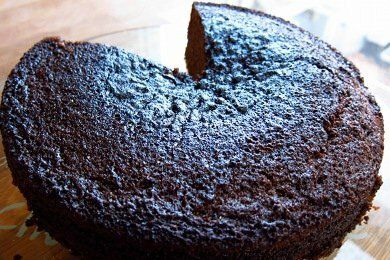 Recently, Snack Girl attended a foodie conference where she was "schooled" by Elise Bauer of Simply Recipes. Seems Snack Girl had never heard of David Lebovitz.
Snack Girl, get out from under that rock!
So, I requested a copy of David Lebovitz's "Ready For Dessert" and ummm, felt stupid.
How could I have missed this guy?
This book is one of the best cookbooks I have ever read (and I read them for fun). Since we received the book, we have made 3 recipes and ALL of them have been exceptional.
David Lebovitz's desserts are not low in calorie, but they are strong in flavor. And, they are ADULT desserts. The ginger cake recipe below features fresh ginger and black pepper.
A quote from my 4 year old as he devoured his slice - "Mommy, this makes my mouth bleed."
Another dessert example is his caramel ice cream that is not over sweet and has this lovely saltiness. yummmmm.
Ordinarily on Snack Girl, I stay away from talking about high calorie foods, but today is an exception.
My thought is that if you made and ate these desserts you would NEVER look at another Hostess Cup Cake, stale muffin, cheap popsicle, tasteless cookie AGAIN.
Why?
Because, they just don't taste very good after eating these divine desserts. You will become discriminating about your treats - and you will make them yourself.
That is a great rule to follow - "Make Your Own Bake Goods" and you will never inhale a 400 calorie scone from Starbucks again!
Try making this ginger cake below. It was pretty big, but it remained fresh for 5 days just sitting on our countertop.
---
Fresh Ginger Cake Recipe
(Reprinted with permission from Ready for Dessert: My Best Recipes by David Lebovitz, copyright © 2010. Published by Ten Speed Press, a division of Random House, Inc.)

(10 to 12 servings)
4-ounce (115 g) piece fresh ginger, peeled and thinly sliced
1 cup (250 ml) mild-flavored molasses
1 cup (200 g) sugar
1 cup (250 ml) vegetable oil
2 1/2 cups (350 g) all-purpose flour
1 teaspoon ground cinnamon
1/2 teaspoon ground cloves
1/2 teaspoon ground black pepper
1 cup (250 ml) water
2 teaspoons baking soda
2 large eggs, at room temperature

Perheat the oven to 350F (175 C). Butter the bottom and sides of a 9-inch (23-cm) springform or round cake pan with 2-inch (5-cm) sides and line the bottom with a circle of parchment paper.
In a food processor fitted with a metal blade or with a chef's knife, chop the ginger until very fine. Set aside.
In a large bowl, mix together the molasses, sugar, and oil. In a medium bowl, whisk together the flour, cinnamon, cloves and pepper.
In a small saucepan, bring the water to a boil, then stir inthe baking soda. Whisk the hot water into the molasses mixture, then add the chopped ginger.
Gradually sift the fllour misture over the molasses mixture whisking to combine. Add the eggs and whisk until thouroughly blended.
Scrape the batter into the prepared springform or cake pan and bake until the top of the cake springs back when lightly pressed with a finger or a toothpick inserted into the center comes out clean, about 1 hour. Let cool completely.
Run a knife around the sides of the cake to help loosen it from the pan. Invert the cake onto a plate, peel off the parchment paper, then re-invert it onto a serving platter.
SERVING: Serve wedges of this cake with whipped cream, a favorite ice cream, or a fruit compote.
STORAGE: Because this cake is so moist, it keeps well for up to 5 days at room temperature. It can be frozen for up to 1 month.
Have you tried any David Lebovitz's desserts? Please share.
---
$53.68 Buy on Amazon.com
As an Amazon Associate, I earn from qualifying purchases.
---
Want to read about snacks?
You Won't Miss The Butter In This Holiday Banana Bread
A Holiday Snack From Bran Appetit
A Healthy Tortilla
Lessons From a Coconut