Tear Your Eyes Away From Cookies And Look At This!
Snack Girl has been hard at work determining how many cookies she will be making this weekend. I started dreaming with five different cookie recipes.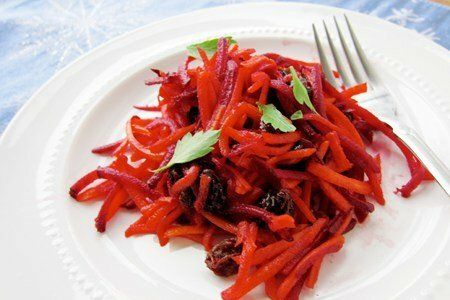 My partner wondered aloud, "How are you going to have time to do THAT?". Yes, good question. I am down to three different Christmas cookies and, no, I'm not going to tell you what they are.
What I am going to tell you is to EAT BEETS. This is the season of beets and carrots and they are very inexpensive. My local beet store was charging a mere 50 cents per pound for beets.
Here I have created yet another holiday salad that looks, well, festive. Red with a splash of green, this grated carrot and beet salad would go great on the side of roasted meat (like lamb).
I peeled both the beet and the carrot and then used the grater attachment on my food processor to grate these fast. This is best after it marinates for an hour or longer so make it ahead for the big meal.
I am agnostic about the raisins. Personally, I don't like raisins in my salads, but they are nice here. You don't need them to make the salad work.
This salad is very crunchy and filled with flavor. You won't even notice that you didn't add olive oil to make the dressing. No kidding.
Do you eat beets during beet season? Please share.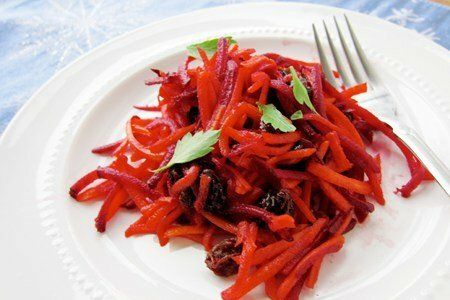 Grated Carrot and Beet Salad

(makes 4 servings)

Ingredients
2 cups grated carrot (about 3 carrots)
1 cup grated fresh beet (about 1 medium beet)
½ cup raisins (optional)
¼ teaspoon ground cumin
¼ teaspoon ground cinnamon
½ lemon
2 teaspoon honey
chopped parsley for garnish (optional)
salt to taste
Instructions
Place carrot, beets, raisins, cumin, and cinnamon in a medium bowl. Squeeze lemon onto mixture and add honey. Mix until combined and taste. Leave in refrigerator to marinate for an hour (if you have the time).
Enjoy!
Nutrition Facts
With raisins = 107 calories, 0.3 g fat, 0.0 g saturated fat, 26.9 g carbohydrates, 19.6 g sugar, 1.8 g protein, 3.1 g fiber, 112 mg sodium, 3 Points+
Without raisins = 53 calories, 0.2 g fat, 0.0 g saturated fat, 12.6 g carbohydrates, 8.9 g sugar, 1.3 g protein, 2.5 g fiber, 110 mg sodium, 1 Points+
Points values are calculated by Snack Girl and are provided for information only. See all Snack Girl Recipes
Other posts you might like:
---

Snack Girl will not apologize for her continued healthy holiday search. Today's entry: The Christmas Salad....
---

One way to deal with the holidays is to take control....
---
---
Get Free Email Updates! Yes please!
---