Greatist Collaboration: Spicy Roasted Chickpeas
Have you ever tried to roast chickpeas AKA garbanzo beans? It is pretty simple and turns out a crunchy snack that will remind you of nuts.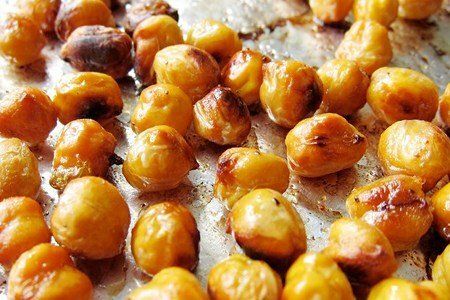 Except, these aren't nuts - they are beans! They are very filling and cheap. Just like roasting vegetables you just add some olive oil, flavors, and cook at a high temperature.
Today, I am sharing this post with Greatist because they are super cool. They named me #44 on a list of 100 Most Influential People in Health and Fitness 2011 and I am hoping to get to #40 this year :)
Head on over to Greatist to check out the recipe!
Here are some other wonderful, easy, and healthy foods to roast:
---
Other posts you might like:
---

Last year, Snack Girl featured one of her FAVORITE Spring vegetables and no one read my post. No, I won't give up....
---

Who likes to feel like their hands are in worm guts? You? The slimy inside of a pumpkin is a SCARY place....
---