How To Make a Power Breakfast (44% of your DV of Iron)
Snack Girl has a problem. It is a GREAT problem to have - too much fresh spinach in her refrigerator.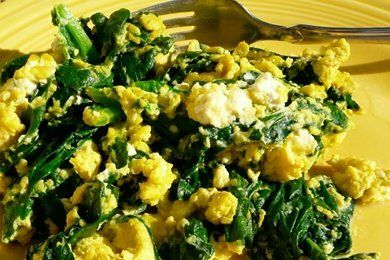 How did that happen? Well, out here in the middle of nowhere, we have farms. My family joined a farm share (see Fresh Produce) and we have a ton of spinach in our refrigerator.
My solution is to eat it. I know I could give it away or toss it out, but that would be wasteful! So, today, I started my day with a recipe that I call, "Green Eggs". Green Eggs is a great way to try to convince your children to eat spinach (has not worked by the way).
For every recipe that I put on the site, I evaluate the nutritional facts. This is BY FAR one of the most nutritious recipes on Snack Girl. Some facts:
44% of your DV of Iron, 41% of your DV of Calcium, 436% of your DV of Vitamin A
5.0 grams of Fiber (20% of your DV)
over 21 grams of Protein
Simply put, this recipe will give your body a huge shot of nutrition to start your day. And, you won't get hungry again until lunch (I promise).
Obviously most of you don't have a farm share, so just go buy one of those bags of pre-washed spinach and toss half of it into your eggs.
If you don't have time to make this in the morning, make it the night before and just reheat in the microwave. Or just eat it cold! It will taste great no matter how you eat it.
My plan is to eat spinach for breakfast, lunch, and dinner until I finish it! (well, I might freeze some :)
---
Green Eggs Recipe

(serves 1)
2 eggs
1/2 pound spinach
1 ounce feta cheese

Mix eggs and spinach (removed large stems) in large bowl. Crumble in feta cheese and mix again. Mixture should be lumpy. Pour into heated fry pan and stir until cooked (about 3 minutes). If spinach isn't steaming, put lid on pan.
253 calories, 15.7 g fat, 10.1 g carbohydrates, 21.6 g protein, 5 g fiber, 619 mg sodium, 5 Points+
Do you eat spinach for breakfast?
Want to read about snacks?
A Healthy Choice at McDonald's
Gourmet Chips For Healthy Snacking
How To Prevent Cancer
Healthy Beach Snacks