This Green Smoothie Does NOT Taste Like Grass
Snack Girl has had MANY readers tell her to try "green" smoothies. Well, before last Tuesday, I had one word for them - YUCK!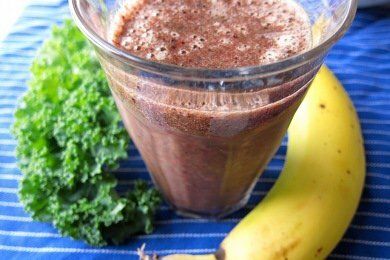 Yes, I had been open to green smoothies and then I tasted them. I felt like a cow chewing her cud (and I already feel like a cow for other reasons).
But, Stacie, changed my mind with this comment on the Beauty Diet:
I drink a green smoothie (fruit plus some kind of greens) every day for breakfast, with a couple tablespoons of ground flax. Not only does this allow me to start the day with about 4 servings of fruits and veggies, I notice such a huge difference in my skin and nails when I follow this routine.
When I fell off drinking smoothies, my forehead broke out and my skin looked dull - but after a week of drinking them, the acne cleared up, my skin is really glowing, and the weirdest thing is that the whites of my eyes are whiter! Try it - I virtually guarantee you'll see a difference!
Wow! That seems like a lot for a smoothie to do, so I e-mailed Stacie for her recipe. I was concerned about whether my blender was up to snuff, because she used a "VitaMix" blender.
So, I used a conventional blender, and I skipped the flax seed and I made her smoothie and handed it to my lab rat (AKA husband) who pronounced it delicious!
I had to agree. I didn't notice the kale and I wasn't missing yogurt, honey, or anything else. It tasted fresh, healthy, and I wanted MORE!!!
My husband added some maple syrup because he wanted more sweetness. That is the great thing about making your own smoothies - they are totally customizable.
Try this on your kids and watch them slurp down the most nutritious green vegetable on the planet. They will get 207% of their daily value of Vitamin A, 10% of their DV of Iron, 12% of their DV of Calcium, etc.
Got any green smoothie recipes? Please share.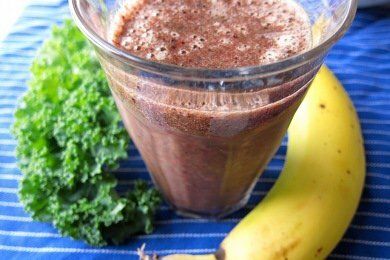 Green Smoothie Recipe
(1 serving)
Ingredients
1 cup frozen mixed berries
1 cup kale
1/2 banana
1 cup water
Instructions
Tear kale leaves off of stems and tear into small shapes. Put berries, kale, 1/2 banana, and water into a blender and blend until smooth. Enjoy!
Nutrition Facts
166 calories, 0.7 g fat, 0.0 g saturated fat, 37.5 g carbohydrates, 17.2 g sugar, 3.6 g protein, 7.5 g fiber, 37 mg sodium, 7 SmartPts
Points values are calculated by Snack Girl and are provided for information only. See all Snack Girl Recipes
Other posts you might like:
---

Snack Girl isn't really a fan of smoothies because she finds them too sweet. But, there is one style of smoothie that motivates her to get out the blender.
---

If you're looking for a snack that tastes delicious AND is good for you, then you're in for a treat!
---
---
Get Free Email Updates! Yes please!
---