This Smoothie Will Blow Your Mind
Snack Girl isn't really a fan of smoothies because she finds them too sweet. But, there is one style of smoothie that motivates her to get out the blender.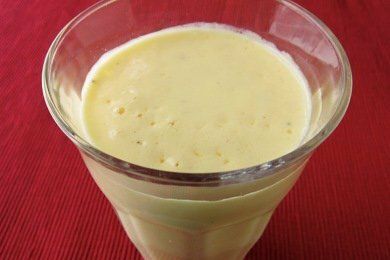 And, something wonderful has happened and my regular grocery store (Stop-N-Shop) has started carrying frozen mango chunks!
I am lucky enough to live near a Trader Joe's and they have always had frozen mango, but I didn't want to write about this treat because so many of YOU don't live near a Trader Joe's.
I think what is happening is that the bigger supermarkets are figuring out that Trader Joe's has some great stuff and making sure they have it too. I have notice a bunch of items make the shift into the more established stores.
So, I hope you are able to find frozen mango because it makes working with mango SO much easier. For $2.50, I bought a pound of frozen mango chunks and I knew EXACTLY what I wanted to do with them.
Make a Mango Lassi! Which is the South Asian term for "Mango Smoothie with Little or No Sugar". The first time I had a Mango Lassi was in an Indian restaurant and I was immediately "in love".
Mango is the national fruit of India (great choice!). I believe Fruity Pebbles is the national fruit of the U.S.A.
The yogurt-mango combo is amazing. You add salt, cardamom and maybe some lemon juice and you get an "adult" drink (without alcohol).
This is a breakfast drink in India, and they will add pistachios to the drink to make it more of a meal. They also use ice cubes to make it cold, which is nice in hot climates.
(if you are currently living in a hot climate - I do NOT want to hear about it :)
The frozen section of your supermarket is an excellent place to find fruit right now since so much of it is out of season (strawberries, peaches, blueberries). Just be sure that there is no sugar added to the fruit.
You could thaw the mango and put it on your cereal in the morning (or mix it into your oatmeal). Or just eat it plain for a snack.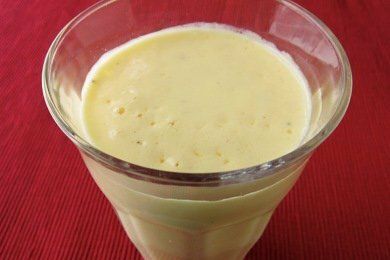 Mango Lassi (Smoothie) Recipe
(serves 2)
Ingredients
1 cup frozen mango chunks
1 cup low fat plain yogurt (Greek is fine)
1 tablespoon sugar
2 tablespoons water
1/4 teaspoon vanilla
pinch of salt
1 teaspoon fresh lemon or lime juice (optional)
1/4 teaspoon ground cardamom or nutmeg (optional)
Instructions
Combine all ingredients in a blender and process until smooth. Pour into glass with ice (optional ice) and enjoy!
Nutrition Facts
1/2 recipe is 158 calories, 2.1 g fat, 29.4 g carbohydrates, 6.9 g protein, 1.6 g fiber, 166 mg sodium, 4 Points+
Points values are calculated by Snack Girl and are provided for information only. See all Snack Girl Recipes
Please share any mango recipes or favorite ways to serve them.
Want to read about snacks?
Panini Extreme Makeover (Take THAT Quiznos!)
Transform Broccoli Into a Food the ENTIRE Family Will Eat
Rethinking The Egg McMuffin
Love S'Mores? Try This 52 Calorie Treat
---
Get Free Email Updates! Yes please!
---