Fastest, Easiest, and Tastiest Guacamole
Guacamole is not a dip that should be avoided because of the calories. Of course, if you add guacamole to something that is already calorie dense (such as a cheese and meat filled burrito), you are throwing gas on the fire.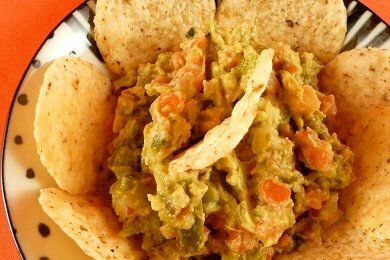 Right now, avocados are in season and cheap. Mexico and California both produce great avocados - buttery and tasty.
As a snack, guacamole is incredibly nutritious. And if it is served with cut veggies, instead of chips it is a GREAT snack.
There is really no reason to buy pre-made guacamole. Some brands of guacamole have been known not to include avocados! Guacamole manufacturers tend to add too much salt.
This recipe is easy because you are just mixing 2 delicious ingredients together: avocado and fresh salsa.
The idea here is to make just enough to be satisfied (a huge bowl will derail any dieting efforts). Buy a ripe avocado or a hard one that will slowly ripen on your counter. To determine if it is ripe, the skin should give a little when you press on it.
If you buy an unripe avocado and it ripens before you want to use it, you can put it in the refrigerator for about 5 days. It will ripen more slowly and stay fresh for you.
Buy fresh salsa from the produce section of the store. It tastes SO much better than any jar of salsa you can buy. Also, it is just chopped onions, tomatoes, peppers, and lime juice. It is low in calories and a great way to add taste to many dishes (such as scrambled eggs).
Don't forget to taste what you are making. I've seen this again and again on Top Chef. Why waste your time cooking if you make something that you don't love?
Finally, kids will love mixing this together and dipping assorted things into their creation.
---
Easy Guacamole

Serves 2
1 ripe avocado
1/2 cup fresh salsa
lime (optional)
salt
Peel avocado and put in small bowl. Add salsa and mash with fork. Taste, add salt or lime juice if desired. Serve with cut veggies or chips.
178 calories, 14.8 g fat, 12.6 g carbohydrates, 2.6 g protein, 7.8 g fiber, 397 mg sodium, 5 Points+
---
What is your favorite way to serve avocados? Please share!
Want more like this?
A Dip that Won't Kill You
Sneak Healthy Dip into Your Super Bowl Party
A Grecian Snack for All Time