Take The Devil Out Of Your Eggs
Egg season is approaching and, frankly, I LOVE deviled eggs. Most deviled egg recipes feature mayonnaise as a primary ingredient.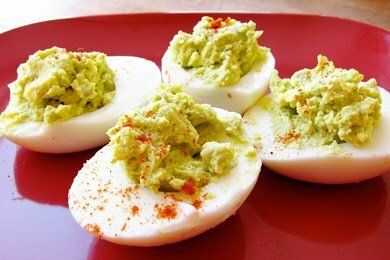 While I absolutely love mayonnaise, it is 90 calories per tablespoon. Mayonnaise is just an emulsion of egg yolks and oil. I think I can do better.
What if you replace the mayonnaise with avocado? One cool thing about this is now you have green eggs. Everybody loves green eggs and ham (or maybe just people who love Dr. Seuss).
Adding avocado gives you a nutrient filled fat that makes these healthier and lighter. I don't know if these taste as good as the mayonnaise filled ones - but, I will say these are super delicious.
The recipe below uses Dijon mustard and lemon juice to provide flavor and creaminess. Here are some other suggestions for tasty deviled eggs:
Add 1 teaspoon of curry powder
Use cottage cheese or greek yogurt instead of the mayonnaise
Add chopped pickles (sweet or dill)
Add a dash of horseradish
If you really like eggs, it can be fun to have an "Egg Cooker" featured below. I haven't tried it personally, but it is on my "cool kitchen appliances that I must have one day when I have more space in my kitchen" list.
My librarian, Sue, gave me a great idea for peeling many hard boiled eggs. After you cook them, put them back in the pan and just shake it. The eggs get cracked evenly and it is SO easy to peel them.
My children love these as an afternoon snack and they would be hit at any party. Everyone would wonder, "How did she turn the eggs green?"
You've become both a healthy cook and the magician!!!
Please share your "angeled" eggs ideas!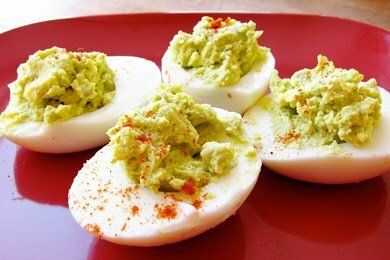 Avocado Devil Eggs Recipe

(makes 6)

Ingredients
6 hard boiled eggs
1/2 ripe avocado
1/2 lemon
2 teaspoons Dijon mustard
salt to taste

Instructions
Cut eggs in half and remove yolks. Mash avocado and yolks in a small bowl and squeeze in the lemon half. Add salt to taste and spoon into egg whites. Enjoy!
Nutrition Facts
For one egg (2 halves) = 91 calories, 6.9 fat, 1.9 g carbohydrates, 6.0 g protein, 1.2 g fiber, 109 mg sodium, 1 SmartPt
Points values are calculated by Snack Girl and are provided for information only. See all Snack Girl Recipes
$129.99 Buy on Amazon.com
As an Amazon Associate I earn from qualifying purchases.
---
Other posts you might like:
---

Yes, this photo does look like "deviled" eggs, but Snack Girl has a fix to make them much less evil....
---

Why did it take an Australian to show me the light on a low calorie, delicious, and fast breakfast? Where has this idea been hiding?....
---
---
Get Free Email Updates! Yes please!
---