Why Don't Americans Serve Eggs Like This?
Why did it take an Australian to show me the light on a low calorie, delicious, and fast breakfast? Where has this idea been hiding?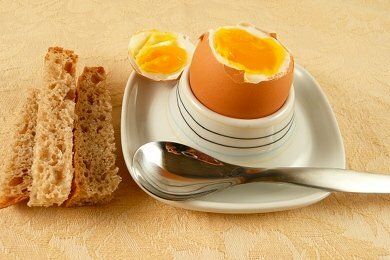 Perhaps, the United States is just lame-o when it comes to egg cooking. How many of you have had a rubbery omelet in the last week?
My husband is Australian (Crocodile Dundee), and he took me to breakfast in Melbourne and I had (get this) a soft boiled DUCK egg. I thought I had died and gone to heaven.
I am not going to name my DH "Crocodlile Dundee" - even though it is very tempting. The most successful blogger on the planet The Pioneer Woman named her cowboy husband, "Marlboro Man". Since, I want to remain married, I think I will call my husband "Matt".
It still took me almost 3 years to attempt soft boiled eggs at home.
Why? Because, you need the right spoons and egg cups - and I didn't have either.
1. You need proper spoons to get the egg out of the shell. A teaspoon will not work as well as an "Egg Spoon". Trust me - I tried it. The only place I could find them was Amazon.com - see below
---
$11.99 $9.99 Buy on Amazon.com
As an Amazon Associate, I earn from qualifying purchases.
---
2. You need "egg cups" to hold the egg when you eat them. I went to Williams-Sonoma and they wanted to charge me $14 for ONE egg cup (French china). Who has $14 for one egg cup?
There are a couple good sources for egg cups. First, try your favorite Salvation Army or Good Will, just like fondue pots, people get rid of these because they never use them.
Another good source is eBay - see here: Egg Cups on eBay.
BEWARE: eBay is a great way to procrastinate doing other things you should be doing - like writing your blog.
If you have never bought anything on eBay, it is like an online "garage sale". There is a bunch of random stuff from all over the country, and you will love some of these egg cup choices. I think I wasted 20 minutes looking at all of them.
The egg cup in the above photo was purchased at IKEA. I couldn't believe I found them there.
You scoop the egg out of the shell with the cute spoons. You do have to crack the egg in a certain way for all of this to work (it takes a couple tries before you become an expert). I found some great instructions here: How To Crack a Soft Boiled Egg.
For a mere 63 calories, you get this creamy and nutritious treat. I have mine for breakfast with a few "soldiers" of Toast. Just cut your 100% whole grain Toast into strips to dip in in the egg. YUM!
---
Soft Boiled Egg Recipe
1 egg
salt for pan

Buy the freshest eggs you can find. Bring a small saucepan of water to a boil and add a dash of salt. Lower egg into boiling water with spoon to keep it from cracking.
Set timer for 5 minutes for a runny egg, 7 minutes for a harder one, and 10 minutes for a hard boiled egg. Remove egg from water with spoon and rinse under cold water. Place in egg cup and crack. Enjoy!
63 calories, 4.4 g fat, 0.3 g carbohydrates, 5.5 g protein, 0 g fiber, 62 mg sodium, 2 Points+
Have you ever tried soft-boiling an egg?
Want to read about snacks?
Elegant, Easy, and Under 100 Calories
Snack Girl's Top Healthy Snacks - Birthday Celebration!
Love Chinese Take Out? Try This Trick
A Healthy Packaged Snack For Your Lunch Box