A Healthier Pancake and French Toast Topping
A couple of weeks ago, Snack Girl was waxing lyrical about maple syrup (see: A Healthy Sugar Made From Tree Juice).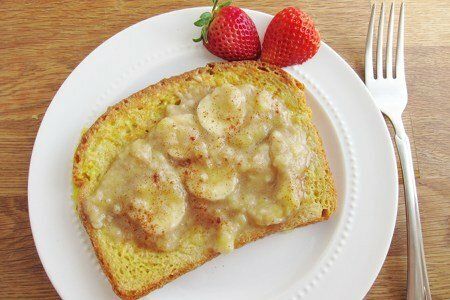 I will be the first to admit that pouring sugary syrup on my breakfast is more of a treat than a necessity. I usually eat my French toast plain or with a wee bit of butter.
A couple of weeks ago, I attended a retreat where a bunch of vegetarians were in charge. They served a healthy breakfast with foods like brown rice, vegetables, French toast, and maple syrup. But, they also served a warmed "Banana, Vanilla, Cinnamon Sauce" that I fell in love with.
Seems all I had to do was mash up a banana, add vanilla and cinnamon, and heat it in the microwave and I had created this sauce (go figure). It is luxurious AND instead of just sugar, you get the potassium, fiber, and goodness that is a banana.
Also, I have used fruit that has spent too long on my counter (overripe) to make fruit syrup see: Got Fruit On The Edge? Don't Toss It - Try This .
Both of these warm mashed fruit recipes are great for oatmeal, pancakes, toast, vanilla ice cream or in stirred in yogurt or cottage cheese.
This is a delicious and healthy way to satisfy a sweet tooth and you get started on your five servings of fruits and vegetables a day with the sleep still in your eyes.
Have you tried making a fruit syrup? Please share.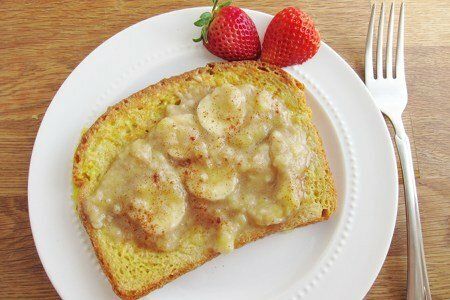 Banana Syrup Recipe
(makes 1/3 cup sauce or enough for 2 pancakes)
Ingredients
1 ripe banana
1/4 teaspoon vanilla
ground cinnamon
Instructions
Cut the banana in half and mash 1/2 of it in a small microwave proof bowl. Slice the other half and add to mashed banana. Heat in microwave on high for 30 seconds. Mix in vanilla and add a few dashes of cinnamon. Use immediately (or it will turn brown).
Nutrition Facts
For one serving (two in recipe): 53 calories, 0.2 g fat, 0.0 g saturated fat, 13.5 g carbohydrates, 7.2 g sugar, 0.6 g protein, 1.5 g fiber, 1 mg sodium, 0 Freestyle SmartPts
Points values are calculated by Snack Girl and are provided for information only. See all Snack Girl Recipes
Other posts you might like:
---

Snack Girl is a sucker for "buy one get one free" and she finds herself stocking up on perishables. Not a smart move since these perishables tend to rot before my family eats them....
---

Snack Girl keeps working on the perfect pancake. It is the "cake" part that gets me striving for the elusive goal of tasty and nutritious....
---
---
Get Free Email Updates! Yes please!
---