Got Fruit On The Edge? Don't Toss It - Try This
Snack Girl is a sucker for "buy one get one free" and she finds herself stocking up on perishables. Not a smart move since these perishables tend to rot before her family eats them.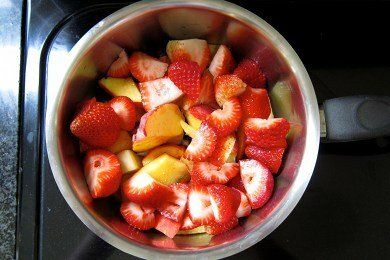 I purchased too many peaches, strawberries, and a fruit salad and they were staring at me in the fridge. They were too ripe, a little mushy, and not very appetizing.
And, man, was I feeling guilty! How could I waste this bounty that a hard working farmer had grown, picked, and delivered to the store? AAAAAH!
I put on my thinking cap and my cape and decided to read my own website. In August of last year, I posted Sugar Free Jam In Seconds (No Artificial Sweetener!).
A very helpful reader - Christina shared this idea:
When I have berries (or other fruit like plums and nectarines) that are starting to shrivel but haven't gone bad, I put them in a pot, turn on the heat, and mash them up while they boil (5-10min).
There's no need to add sugar because the fruit is already ripe and sweet, and you can save it for a few more days (refrigerated!) and spread it on toast or mix it into oatmeal...or just eat it straight!
It only took me a year to try it!
Above is a photo of the fruit that I put in my sauce pan - a sliced peach, strawberries, some pineapple, a few blueberries, and grapes. Then I heated it up and mashed it and created Fruit Syrup.
Here is the finished product: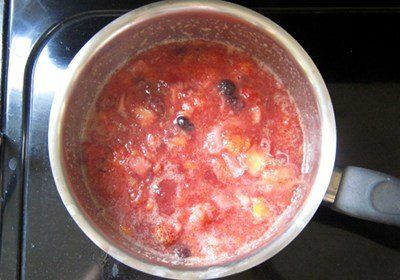 Is this delicious? Yes! Do I wish I had tried it earlier? Yes!
It is a fruit compote that uses up anything you have laying around. I did add a little sugar to mine because the pineapple was a bit sour. Also, I think lemon juice would be a great addition to give a citrus note to the syrup.
What do you do with it? Eat it, put in yogurt or cottage cheese, spread it on toast or pancakes, or (dare I say it) spoon on vanilla ice cream!
What do you do with "fruit on the edge"?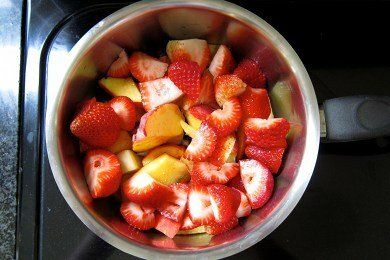 Fruit Syrup Recipe
(makes 4 cups)
Ingredients
1-4 cups assorted fruit such as peaches, nectarines, berries, etc.
Instructions
Cut up fruit into rough pieces. Add to sauce pan, heat up to a boil while mashing with a fork or potato masher. Bring to a rapid simmer for 5 minutes. Turn off heat and mash again to get to desired consistency.
Adjust with lemon juice, sugar, or cinnamon if desired. Enjoy!
Nutrition Facts
For one cup = 66 calories, 0.4 g fat, 16.2 g carbohydrates, 1.6 g protein, 2.5 g fiber, 0 mg sodium, 0 Points+
Points values are calculated by Snack Girl and are provided for information only. See all Snack Girl Recipes
Want to read about snacks?
Think Choosing Subway Is A Healthy Choice? Check This Out
A Lot Less Float For Your Boat (Awesome 53 Calorie Dessert)
Is Snacking Good For You?
Create A Better Snack With Carrots
---
Get Free Email Updates! Yes please!
---