Wow Your Friends This Memorial Day With Salad Sticks
If it would just STOP raining, Snack Girl would get excited about Memorial Day weekend. Click your heels together and repeat after me, "My children will not watch twenty hours of TV over Memorial Day weekend."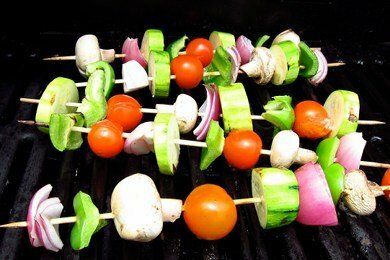 Since I am trying to be positive, I have created the BEST grilled treat on the planet for your outdoor party. I call them - "Salad Sticks" and am currently trying to get a trademark for the concept :)
You see, we love food on a stick! Popsicles, corn dogs, satay are just a few foods that come to mind. How about salad?
Here is a photo of the cooked salad stick: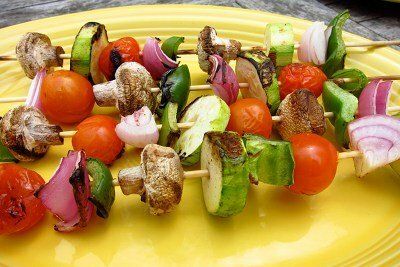 Salad sticks will help you eat fewer hot dogs, hamburgers, and chips. These babies have just 16 calories each and they taste great.
Now, I did not use any oil on these which you may find impossible to do. My grill is non-stick and I got it pretty hot before I put the skewers on it.
My suggestion for adding oil is to spray a little olive oil from a spray can. This will add a little flavor and ensure that your veggies are evenly coated without drowning them in calories (thereby reducing their healthiness).
Below, I have featured my new favorite kitchen tool - the Misto. I bought it on Amazon.com because a Snack Girl reader suggested it.
This is an olive oil sprayer that you can reuse instead of throw away. You save money and the environment by getting one of these - and you can put your own high quality olive oil in the can (or any other kind of oil that you like).
All you do is fill it about half way and "pump it up" and it sprays a fine mist of olive oil. It doesn't use propellants and you will use less olive oil on your salads, etc.
How do you make grilling healthy?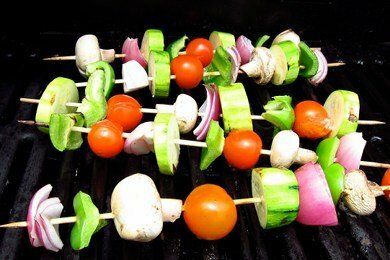 Salad Stick Recipe
(makes 12 skewers)
Ingredients
1 pkg white whole mushrooms
1 medium red onion
1 green bell pepper
2 zucchini
1 pint cherry tomatoes
12 skewers
Instructions
Wet a paper towel and clean mushroom caps. Remove stems from mushrooms. Cut onion in half and then cut 4 pieces of each half. Clean and cut bell pepper into 1/2 inch pieces. Peel zucchini and slice into 1 inch pieces. Place ingredients onto skewers. Heat grill and cook on medium heat for 5 minutes per side until vegetables are your desired doneness. Enjoy!
These can be made ahead and reheated on the grill or in the oven.
Nutrition Facts
16 calories, 0.2 g fat, 3.5 g carbohydrates, 0.8 g protein, 1.0 g fiber, 5 mg sodium, 0 Points+
Points values are calculated by Snack Girl and are provided for information only. See all Snack Girl Recipes
$14.99 $9.99 Buy on Amazon.com
As an Amazon Associate, I earn from qualifying purchases.
---
Want to read about snacks?
A Grab 'N Go Breakfast With ZERO Added Sugar (and you will love it)
You Won't Miss The Butter In This Holiday Banana Bread
A New Meaning For The Word "Grass"
Suppress Your Appetite Without Drugs
---
Get Free Email Updates! Yes please!
---