The Healthiest Bacon
I know what you are thinking. The words "bacon" and "healthiest" do not belong next to each other.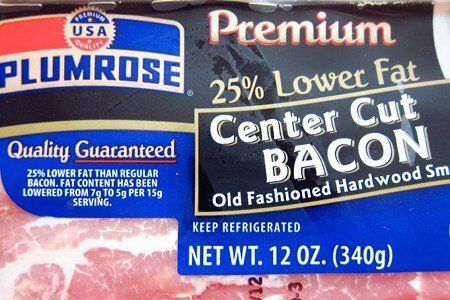 Funny story. I went to this conference with a bunch of registered dieticians and we were served breakfast. When I saw the tray of applewood smoked bacon, I shouted, "Yippee!!" My happiness was met with blank stares.
After we all sat down, I looked around the room and I was the ONLY woman foolish enough to have put two slices of bacon on her plate. I decided to shove them in my purse because I was so embarrassed (not really :).
When I received this question from Erin, I was happy to try and answer it:
So... Center cut bacon is better than the alternative? As good for you as turkey bacon? Cuz, honestly, I just canNOT do turkey bacon. Blech.
Neither can I, Erin. I hate turkey bacon as well. I figure if you are going to have bacon HAVE BACON.
There are a number of reasons, though, to limit your bacon consumption. Bacon is rich in saturated fat, sodium, and nitrates. Which means that it is on the list for causing cancer AND heart disease (see: Can Bacon Be Part Of A Healthy Diet?)
Argh.
But, there are some products such as "center cut bacon" that cut down on the bad sides of bacon. Center cut bacon does have less fat than regular bacon and if you eat just two slices you will get your calorie consumption down to 56 calories versus about 76 calories in regular bacon and reduce your fat intake by 25% when compared to regular bacon.
It tasted the same to me as regular bacon - it just had less of that fatty part of the slice.
Another product that you will see is "No Added Nitrites" bacon. What this means is that there is no sodium nitrate added to the bacon. There is, however, celery juice and sea salt added to cure the bacon and they naturally contain nitrates.
Basically, if you are trying to avoid nitrates, you should just keep away from processed meat.
The real key here, which is obvious to most of you, is to just limit your consumption of bacon. Bacon with eggs followed by a bacon cheeseburger and a meatloaf with bacon on top is just not a balanced diet.
A couple of slices of bacon tossed into a salad every once in a while is a treat and a flavor enhancer. Treat bacon as a condiment of sorts and enjoy it when you have it.
and, DON't try to shove it in your purse.
---
Other posts you might like:
---

I am betting that you are sitting in an office right now! Yes, I can see you in your cubicle with the florescent bulbs burning. Blub blub goes the water cooler.....
---

Are you financially stretched? Honestly, who isn't feeling the pain of our economic downturn?...
---