Top Ten Office Snacks
I am betting that you are sitting in an office right now! Yes, I can see you in your cubicle with the florescent bulbs burning. Blub blub goes the water cooler.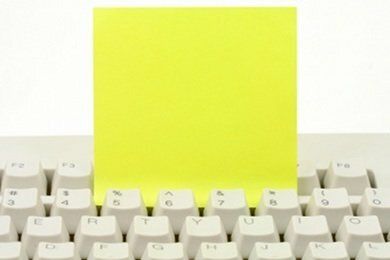 Well, I am sitting in an office and this white walled interior makes me hungry. It doesn't really matter where I am - I am usually hungry.
The problem with going to the office or any other workplace for that matter, is there can be a paucity of healthy food options. There are evil VENDING machines with stuff like chocolate Pop Tarts and potato chips.
The image above is for you to think about what kind of snack you should write on the Post-It. What if you had a Post-It that said "Apples and Peanut Butter"? Would that help you stay away from the vending machine or the Starbucks Frappucino?
Personally, I have difficulty not eating because I get BORED at the office. My afternoon pick-me-up always used to include a sweet treat like a cookie, milkshake, or other confection. I believed I deserved these treats because I was so BORED.
Now with 2 children, interesting job, etc., I am not bored and I have managed to switch out my "junk food" snack for something healthier when I get hungry.
Below are ten office snacks that don't include the obvious - apples and peanut butter, veggies and dip - and do include packaged snacks that you can toss into your briefcase or purse for snack time.
The last three snacks in the list are great recipes for when you have time to make something ahead. You can freeze both of the muffins in baggies so they become a "grab and go" snack.
1.

A Lower Calorie Pistachio For Your Snack Consumption
2.

A Healthy Packaged Snack For Your Lunch Box
3.

A Tasty Low Calorie Bar With 50% of Your Daily Fiber
4.

The Benefits of Cheese Sticks
5.

Need Some Intense Dark Twilight Delight?
6.

KINDa Fabulous: A Nutritionally Dense Snack Bar
7.

Lara Bar - Only 2 Ingredients
Make ahead snacks:
8.

This Muffin Can Save Your Life
9.

A Grab 'N Go Breakfast With ZERO Added Sugar (and you will love it)
10.

Lighter, Fluffier Trail Mix
I focussed on packaged snacks for the first seven in the list because most of us are running out the door. Obviously, if you have some fruits or vegetables ready to go - these are preferable to the packaged snacks.
What do you take to the office? Please share!
---
Other posts you might like:
---

Are you financially stretched? Honestly, who isn't feeling the pain of our economic downturn?...
---

Snack Girl has a confession to make. She has snuck in lots of breakfast ideas on her "snack" website....
---