Healthy Baked Oatmeal **VIDEO**
Healthy baked oatmeal is always a hit in my house. It is like a muffin (and like a pudding).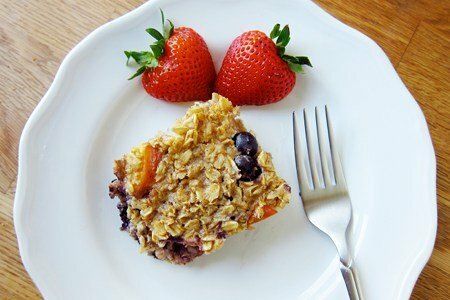 I talk about oatmeal a lot and have featured two overnight recipes - Crockpot oatmeal with old fashioned oats and overnight oatmeal with chia seeds.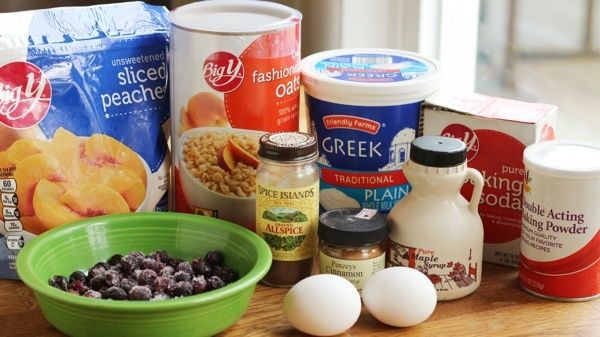 This is probably a recipe that you will make ahead. I don't know many people who have time before work to bake for their family. You can freeze it in squares and reheat it in the microwave or just leave the tray in the fridge for the week ahead. Hot breakfast in 30 seconds!!
It is:
ridiculously easy to make
convenient for the AM rush
comforting and satisfying
It's like a little bit of love in a bowl and healthy baked oatmeal is customizable. You can add any fruit you may have lying around the kitchen. I used some frozen sliced peaches and blueberries because I am too lazy to slice anything. You could use apples, mangos, strawberries, pears, etc.
All you do is mix it up, bake it, and store it in the fridge until you are ready to eat it. You can also cut it into squares and freeze it for individual servings. It freezes well and can be heated in the microwave from frozen.
This recipe has 1/2 the sugar of most other baked oatmeal recipes. I changed it because if it isn't sweet enough for you - it is easy to just add some sweetener to the finished product.
You can also make it without the added maple syrup or sugar. It doesn't need it if you are trying to reduce your added sugar intake. I
My son likes a little milk and maple syrup added to his "warmed in the microwave" baked oatmeal. It feels good giving him a hot breakfast when I am literally scrambling to get him out the door.
I put some peanut butter or plain yogurt on mine because I like a more savory take.
This recipe can be made gluten free if you use gluten free certified oats. Many oats are processed on the same machines as wheat so you have to be vigilant when purchasing them.
Do you make baked oatmeal? What do you put in in it?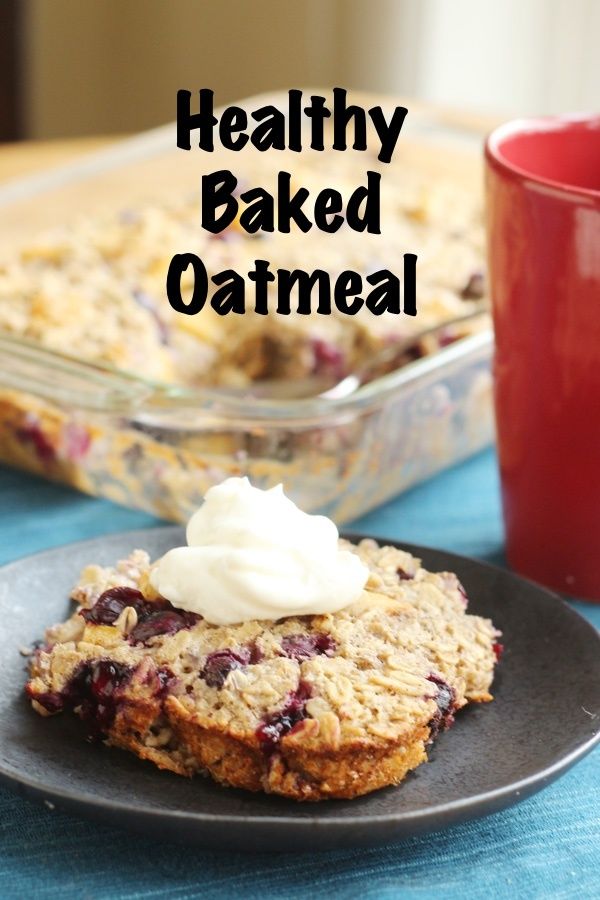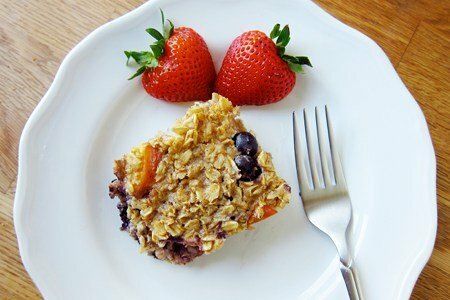 Healthy Baked Oatmeal Recipe
(8 servings)
Ingredients
Dry ingredients:
2 cups old fashion oats
1/2 tsp baking powder
1/4 tsp baking soda
1/4 tsp salt
1 tsp allspice
1/2 tsp cinnamon
Wet ingredients:
2 1/2 cups sliced fruit
1 cup milk
1 cup plain yogurt
2 eggs, beaten in a bowl
1/4 cup maple syrup, honey, brown sugar, or sugar
Instructions
Preheat oven to 350F. Spray nonstick spray on a 8x8 baking dish (or equivalent). Mix oats, baking powder, baking soda, salt, allspice and cinnamon. Add fruit, milk, plain yogurt, eggs, and syrup and mix. Spoon into baking dish and cover with foil. Bake for 20 minutes, remove foil, and bake for another 25 minutes until golden brown.
Enjoy hot, cold, or room temperature. If well covered, this will keep in the fridge for one week.
Nutrition Facts
For one serving (1/8 of recipe) using low fat milk and yogurt = 170 calories, 3.6 g fat, 27.6 g carbohydrates, 8 g sugar, 7.1 g protein, 3.1 g fiber, 163 mg sodium, 6 SmartPts
Points values are calculated by Snack Girl and are provided for information only. See all Snack Girl Recipes
Other posts you might like:
---

I am a big fan of Crockpot oatmeal with old fashioned oats AND steel cut oats. I like to grab whatever I have available when the weather is cold.....
---

Making overnight oatmeal with chia seeds is a wonderful way to support your healthy breakfast goals....
---
---
Get Free Email Updates! Yes please!
---