Overnight Oatmeal with Chia Seeds
Making overnight oatmeal with chia seeds is a wonderful way to support your healthy breakfast goals.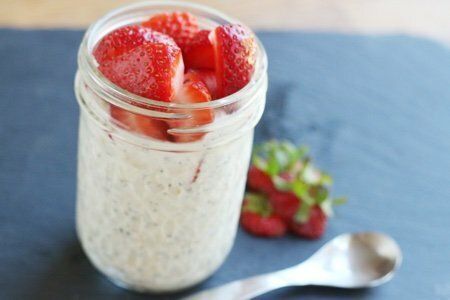 I think it is far easier to eat well when you make a plan. These overnight oats don't require cooking (just a bit of planning) and are packed with goodness.
Many of my healthy breakfast snacks including my baked eggs in a muffin tin can be made the day before you want to eat it. You can make these on Sunday and be ready for the school week ahead.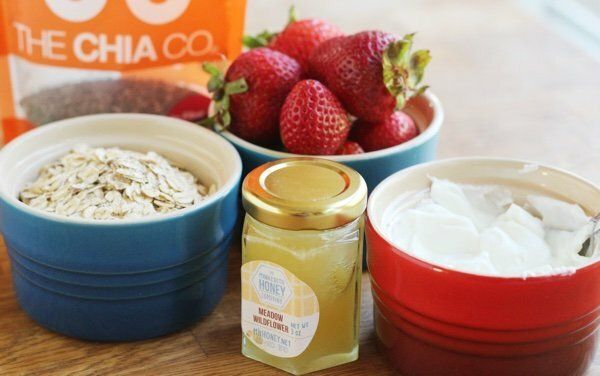 Over the years, I have been slowly adding chia seeds to my food. I read an excellent book, Born to Run by Christopher McDougall, about a tribe of runners that uses chia seeds to fuel 100 mile runs over mountains (not kidding).
Adding a seed to your food (pumpkin, sesame, pomegranate, flax, sunflower) increases the amount of nutrients you consume and adds crunch or flavor. Think of them as an unprocessed multi-vitamin.
The ingredients photo above left out the MILK that you need to make the recipe. I would have taken the photo again but I was out of yogurt after I mixed everything up.
The life of a food blogger is filled with moments when you realize that SOMEONE has eaten the food you need to create a recipe for the website. I am usually running out of time when this happens and I don't live very close to the supermarket. AGH!
It would be ideal to have an entire kitchen dedicated to my job and another for feeding my family but that is never going to happen unless I take a job at the Food Network. Of course, first they have to offer me a job which is also – never going to happen.
My family gave this mixed reviews. My husband loved it. My daughter thought that the gelatinous texture (caused by the chia seeds) was gross. I thought it was good with LOTS of strawberries and blueberries.
Have you made overnight oats? What do you put in it?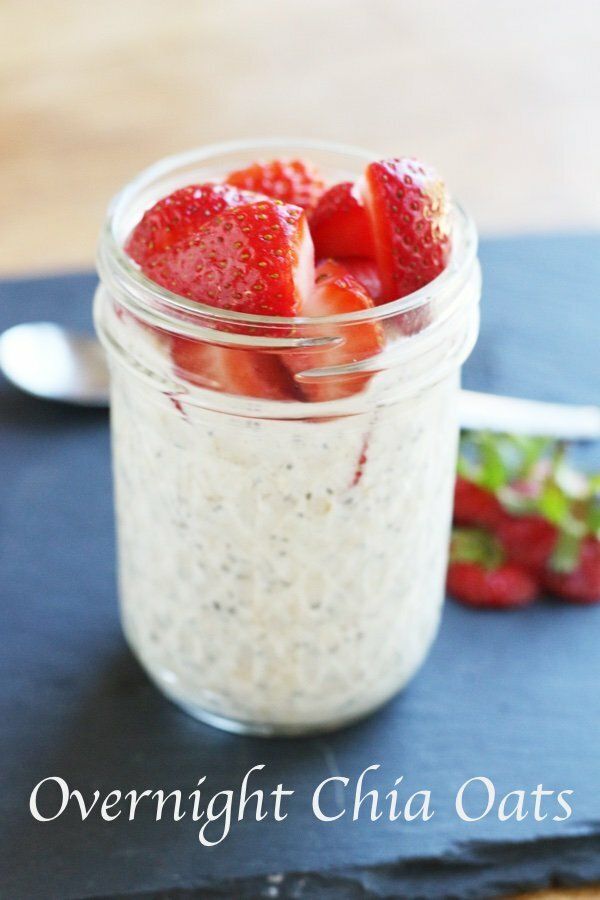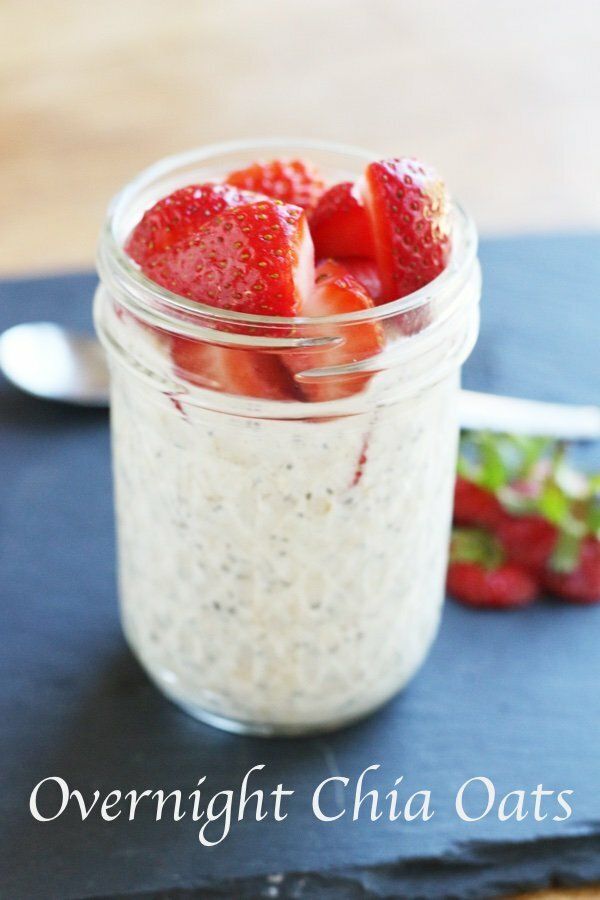 Overnight Oatmeal with Chia Seeds
Makes 4 servings
Ingredients
1 cup rolled oats
1 cup unsweetened almond milk (or any kind of milk you have cow, sow, etc.)
1 cup plain Greek yogurt
2 tablespoons chia seeds
2 teaspoon honey
8 large strawberries, cored and thinly sliced
Instructions
Mix rolled oats, almond milk, Greek yogurt, chia seeds, and honey in a small bowl. Store in an airtight container for at least 6 hours and up to 3 days. Slice strawberries and add when ready to eat.
Nutrition Facts
¼ recipe is 183 calories, 5.7 g fat, 1.4 g saturated fat, 24.5 g carbohydrates, 7.1 g sugar, 9.4 g protein, 5.5 g fiber, 65 mg sodium, 6 SmartPts
Points values are calculated by Snack Girl and are provided for information only. See all Snack Girl Recipes
Other posts you might like:
---

Have you ever tried to baked eggs in a muffin tin? The result will stop you from buying a fast food breakfast.
---

Breakfast is the meal that can throw you off course for an entire day – but not if you eat these healthy breakfast snacks....
---
---
Get Free Email Updates! Yes please!
---