Cantaloupe For An Easy Healthy Breakfast
I want to know which creative thinker came up with a "bread" bowl. That person was ON to something. Of course, most of us need to avoid bread bowls (especially if they are filled with a clam chowder).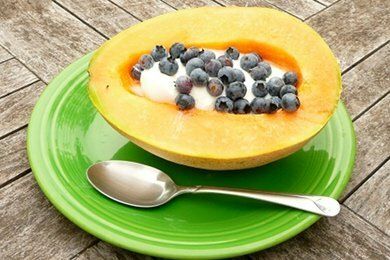 Snack Girl has come up with her own BOWL concept. A cantaloupe bowl! For a mere 100 calories (or less depending on the size of your bowl), you have a great way to get your fill of fruit to start your day.
I added 1/2 cup of low-fat yogurt and some blueberries. On average, you will have 200 calories, 25% of your daily value of Calcium, 192% of your DV of Vitamin C, and 9 grams of protein.
AND, you have fewer dishes to wash.
(The plate in this photo was used for photographic purposes. No dish was dirtied eating this breakfast - just a spoon :)
Don't tell me you don't have time to make this. It is almost as fast as a bowl of cold cereal.
You can also add some granola (for crunch) and any other fruit to the top. The idea is to add more protein to the cantaloupe withe the yogurt so that you don't get hungry later in the day.
It also takes a WHILE to eat it. This is not a grab and go breakfast - and that is a GOOD thing. Savor the lovely flavor of fresh cantaloupe.
If you don't like cantaloupe, you can use honeydew melon. Other great stuff to put in your melon bowl:
cottage cheese with cinnamon or pepper
chicken salad
feta cheese and lime juice
Have you tried a cantaloupe bowl?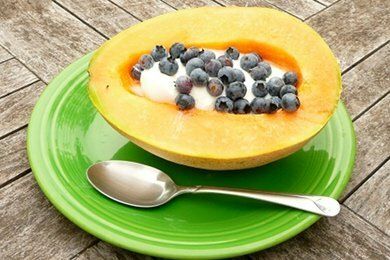 Cantaloupe Bowl Recipe
Ingredients
1 cantaloupe
1/2 cup plain low-fat yogurt
10 blueberries

Instructions
Cut cantaloupe in half and spoon out seeds. Save one half in fridge of later use. Spoon yogurt into cantaloupe and add blueberries. Grab a spoon and enjoy!
Nutrition Facts
For medium sized cantaloupe = 101 calories, 2.0 g fat, 14.2 g carbohydrates, 7.0 g protein, 0.6 g fiber, 97 mg sodium, 2 Points+
Points values are calculated by Snack Girl and are provided for information only. See all Snack Girl Recipes
Other posts you might like:
---

I don't know about you, but I am hot! The heat wave here in Massachusetts made me feel like the Wicked Witch of The West....
---

Hellooooo, watermelon. Where have you been? Missed you!....
---
---
Get Free Email Updates! Yes please!
---