Love Breakfast Sausage but Hate Jimmy Dean? Try This!
Snack Girl is a mostly vegetarian website because I have mixed feelings about eating meat and it is SO easy to create yummy snacks with fruits and vegetables.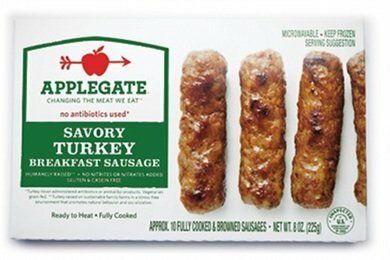 The reason I have mixed feelings is that I love eating meat - pastrami, bacon, pulled-pork sandwiches, hot dogs, ham, corned beef, hamburgers.....what don't I like about eating meat?
Well, there is an environmental impact to being a meat eater that, frankly, makes my stomach turn. After reading Michael Pollan's brilliantly written and researched "The Omnivore's Dilemma" (see below), I couldn't stand the idea of buying meat from a "factory" farm.
I was living in San Francisco when I read it, and I was able to find chicken that had been "pastured" for $9 per pound. That's right, folks, I bought a $40 chicken!
(it was a special occasion)
Recently, Applegate Farms sent me some breakfast sausage to try and I have to tell you it was delicious.
Their mission is "to change the way America eats meat". Sound lofty? They want to do it by conducting farming practices with integrity - treating land and animals with respect.
This is not factory farming. My favorite part of their website is their Promise Tracker where you can see videos of the farmers who made your sausages talking about their practices.
Try that, Jimmy Dean.
So here is a comparison:
Applegate Farms Savory Turkey Breakfast Sausage ingredients:
Turkey, Water, Contains Less Than 2% Of The Following: Evaporated Cane Syrup, Salt, Spices.
Jimmy Dean Turkey Sausage Link ingredients:
Boneless turkey, water, contains 2% or less of the following: sodium lactate, salt, dextrose, sugar, spices, sodium phosphate, sodium diacetate, BHT, citric acid, caramel color.
I just LOVE the smell of butylated hydroxytoluene (BHT) in the morning.
The two sausage companies produce almost exactly the same product in terms of nutritional facts:
2 links = 90 calories, 6 g fat, 0 g carbohydrates, 8 g protein, 0 g fiber, 320 mg sodium, 2 Points+
Of course, Applegate Farms breakfast sausage is going to cost you. All that clean water, space, fresh air, and antibiotic free animal lifestyle costs more than a "factory" farm. These sausages retail for $5.99 versus Jimmy Dean's $3.00 per package.
Applegate Farms would like to give a Snack Girl reader coupons to purchase their breakfast sausage (or another Applegate product that you want to try). You would receive 3 coupons for 3 Applegate Farms products (maximum value $30).
Here is where you can find Applegate Farms products: Store Locator.

Comment below on your thoughts about the meat industry and you are entered!
This product was received for review consideration. No other compensation was provided.
---
What will I win?

Three coupons for a maximum value of $30 of Applegate Farms products.
How do I enter?
Comment below on your thoughts about the meat industry.
Additional Ways To Enter:

Follow Snack-Girl on FaceBook. Comment on the FB page on your thoughts about the meat industry.

Follow Snack-Girl on Twitter and Tweet this post (use the Tweet Button in the Share Box at the top of this post).

Snack-Girl can follow and count all the additional entries using magical website tools.
Am I eligible to enter?
This giveaway is offered to US residents only.
When do I find out if I am the winner?
The winner will be announced on March 11th, 2011. You will have 2 weeks to e-mail us back with your home address so we can mail the prize.
---
$18.00 $10.82 Buy on Amazon.com
As an Amazon Associate, I earn from qualifying purchases.
---
Want to read about snacks?
Try This Healthy Pie.....Naked
Save Money, Your Waistline, And The World By Making Your Own Cereal
Can Domino's Deliver A Healthy and Tasty Meal?
The Cheater's Guide to Healthy Yogurt