Try This Healthy Pie.....Naked
Here at Snack Girl headquarters clothing is optional (for the 4 and under set). This is also true of our pies.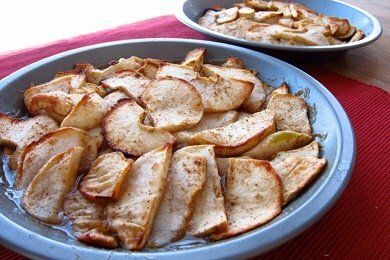 I learned of the "Naked" pie concept when I made a mistake. One night, while making an apple pie, I chopped too many apples to fit into my pie crust. So, I just tossed the apples into a bread pan and cooked them along side the pie.
Guess what?
I like the NAKED pie better than the real pie that I had baked. I don't know why but I didn't even miss the 8 tablespoons of butter that go into a pastry crust.
And, I learned that "going crustless" meant that I could skip an entire step of apple pie baking! Making (or buying) a crust. I don't like the frozen crusts much - though there have been some good ones showing up in stores.
Making a pastry crust is pretty easy if you have a food processor, but do I really have time to be making pie crusts? Hey, I hardly have time to brush my hair, forget lovingly rolling out a chilled dough ball into the perfect crust.
Now, you could have told me to add butter, oats, and sugar to the top to make an apple crumble. Seriously, I don't think this pie needs anything to make it taste delicious.
In the recipe below, I have included 3 spices to make the pie really flavorful. You can adjust as needed, but I find adding powdered ginger gives the pie a nice kick. You could also grate some fresh ginger into the pie if you have some.
For Weight Watchers followers, this pie has a whopping 1 Points+ per serving. You see, the apples are a "FREE" food so the only ingredients I had to count were the sugar, etc.
I made 2 pie plates so 1/4 pie is a serving in this recipe. It is gooey, sweet, sour, spicy, and it will change your mind about eating your pie dressed.
Removing the crust renders my naked apple pie vegan and gluten-free.
Below, I added a cool gadget I found on Amazon.com for peeling, slicing, and cutting up apples for pies. I have a THING for kitchen gadgets and I am going to try to get my hands on one.
I have apple trees in my back yard, so this would be a good investment for me. Have any of you tried one of these?
Do you have suggestions for making pie healthier?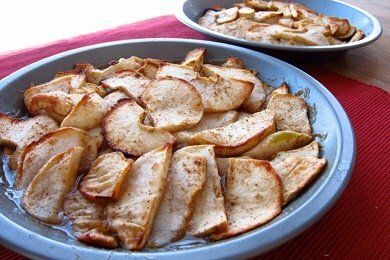 Naked Apple Pie Recipe
(makes 8 servings or 2 pies)
6 large apples
1 lemon
1/4 cup white sugar
1/4 cup brown sugar
1 teaspoon ground cinnamon
1 teaspoon ground cloves
1 teaspoon ground ginger
1 1/2 tablespoons cornstarch (optional)

Heat oven to 350F. Spray 2 pie plates with non-stick spray. Core, peel, and slice apples into 1/2 inch slices. Place apple in bowl and juice lemon over apples. Mix in the rest of the ingredients. Put apple mixture into two pie plates and bake for 40 minutes. Cover loosely with aluminum foil and bake for 10 more minutes. Cool and enjoy!
136 calories, 0.3 g fat, 35.7 g carbohydrates, 0.5 g protein, 4.3 g fiber, 4 mg sodium, 2 Freestyle SmartPts
Points values are calculated by Snack Girl and are provided for information only. See all Snack Girl Recipes
---
currently unavailable Buy on Amazon.com
As an Amazon Associate, I earn from qualifying purchases.
---
Want to read about snacks?
You Will LOVE This 81 Calorie Egg Recipe
Save Money, Your Waistline, And The World By Making Your Own Cereal
Can Domino's Deliver A Healthy and Tasty Meal?
The Cheater's Guide to Healthy Yogurt
---
Get Free Email Updates! Yes please!
---