Are Healthy Choice Meals A Healthy Choice?
For those of us looking for healthy choices, this HAS to be a solution, right? I mean ConAgra Foods has named these meals "Healthy Choice".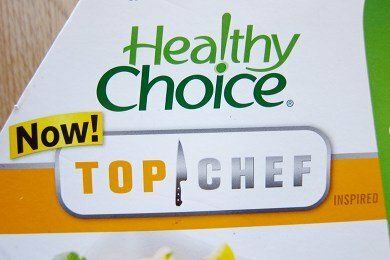 Not only are they named "Healthy Choice" but now some of them are "Top Chef" inspired! OMG! An actual chef on Bravo designed these for us or maybe just told ConAgra to add some basil - hard to know.
If you ever have watched Top Chef (and, yes, your fearless leader is a fan), you know that the competition is rough. You get ingredients tossed at you and you have to CREATE delicious food in NO time. Then judges, like your family, taste your food and tell you how terrible or wonderful it tastes.
I enjoy this program because I learn from it. I watch them chop, saute, and put taste combinations together and I get inspired in my own kitchen. I hate all the DRAMA of the show (boring.......).
When I saw these in the frozen aisle, I decided to pay $2.50 to try one since they were on sale. The first thing that I noticed is that there is a lot of packaging. You steam the food above the sauce in a plastic steamer and then pour the food into the bowl. You then get to throw out a box, steamer, and bowl after eating this meal (so sad).
Here is the nutritional information for the Grilled Chicken Pesto with Vegetables:
310 calories, 9 g fat, 21.8 g carbohydrates, 21 g protein, 3 g fiber, 550 mg sodium, 8 Points+
The ingredient list is SO long and small that I just give up trying to analyze it. Let's just say there is some stuff in here that I cannot pronounce.
How did it taste? Very salty - but otherwise good. Where was the Top Chef judge when we needed her? "Chef, did you taste it before you plated it?"
The steaming of the food ensured that the pasta wasn't gummy and I actually found myself enjoying eating it. But, it lacked vegetables which I don't think is so great for something called "Healthy Choice".
My conclusions are that Healthy Choice is NOT healthy:
for the environment with all the crazy packaging involved.
If you are watching your salt intake. It has 23% of your daily value of sodium!
for those trying to include vegetables in their diet. There is too much pasta!
BUT, if you were to grab some frozen broccoli and mix it in to one of these, you could have something pretty good. You could do 1/2 broccoli and 1/2 "Healthy Choice" and THEN you would halve the sodium and increase the veggies by 100%.
What do you think of Healthy Choice Meals?
---
Other posts you might like:
---

Lean Cuisine is a brand of frozen meals created by the Nestle corporation. How bad are they for you?....
---

The frozen section of the supermarket is not known for its healthy choice. (Ben and Jerry's anyone?)...
---