Is There A Healthy Frozen Dinner Out There?
The frozen section of the supermarket is not known for its healthy choice. (Ben and Jerry's anyone?)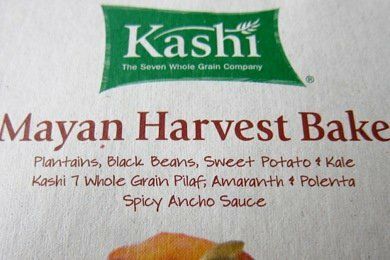 Recently, Myrna, a devoted Snack Girl reader, send me a question about a frozen dinner. From Myrna:
After 79 years ... I am beginning to see the light. I do believe it when I read that processed food should be avoided. I do it to a large extent. HOWEVER...recently my partner and I have gotten lazy and often have not "done any marketing" which means we have no food to prepare for supper.
Rather than head for a restaurant, I will head for the frozen dinner section of the nearest food store and pick up frozen dinners. I have been buying "Amy" and "Kashi" brands which sound like reasonably good.
My question is: Am I fooling myself? Are these as processed as all the other brands?
Thanks, Myrna! I am so glad that you are still working on eating healthier.
I have to admit to not eating frozen dinners because my husband HATES them. He is a cheapskate and really dislikes paying too much for food. But, I bought and ate Kashi's "Mayan Harvest Bake" to help out Myrna. (Actually, I ate it for breakfast :)
What can I say? I liked it! And I liked the nutrition facts:
340 calories, 9 g fat, 58 g carbohydrates, 9 g protein, 8 g fiber, 380 mg sodium
All the ingredients were recognizable and I would say that it tasted pretty good. If you ate 1/2 of it (170 calories) this would be a great hot snack.
Kashi has managed to put together a vegan meal with real ingredients without a ton of sodium or sugar. It packs 20% of your daily value of Iron and Vitamin C. The ingredient list includes: plantains, black beans, sweet potato, and KALE!
Now the downsides:
1. Not all Kashi meals are the same. I found one with 680 mg of sodium (yikes) so stick with Mayan Bake or another that has less than 400 mg of sodium per serivng.
2. The packaging is not exactly GREEN. You are looking at a cardboard box and a plastic tray to toss out after dinner.
3. The price ($4.30) is exorbitant for most. Since I have 4 people in my family, I am looking at $17 for a dinner that I could have made for (I am guessing) about $10.
When you are stretched for time and don't want to clean the kitchen (etc.) - give them a try!
Anyone else find something in the frozen section that they like? Please share.
Want to read about snacks?
A Pumpkin Spice Latte With 77 Calories
A Holiday Snack From Bran Appetit
Try This Pumpkin Pie Makeover For Thanksgiving
Fast, Delicious, Healthy - What Else Could You Want?