Hate Bananas? Try These Pumpkin Bites
Back in April, Snack Girl posted what she thought was an awesome cereal bar recipe. People complained!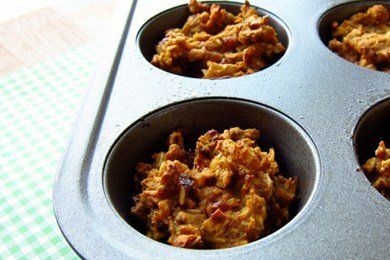 It seems there are a bunch of people who don't love bananas in the same way that I do. Including my son and husband! They avoided my brilliant cereal bars and my feelings were hurt :(
Also, I received many e-mails requesting a banana substitute.
Since I never give up, I went back into the Snack Girl test kitchen (my kitchen) to redesign my snack. It was painful, but I HAD to do it.
I decided to use canned pumpkin because it has a sweet flavor and you don't have to cook it. Whatever you do, do not waste your time looking for pumpkin next to the other canned vegetables or fruits in the supermarket. It is found in the BAKING section on a very low shelf.
Yes, I was resenting the banana haters as I searched through the massive store on the hunt for pumpkin out of season. - but I am over it (not).
You can find it - and it works! The biggest difference is that pumpkin has more water in it - so it took me longer to cook these than the banana ones.
They turned out slightly crunchy on the outside and soft on the inside and THIS time - my entire family like them (they were gone in 2 days flat).
I did add maple syrup to make the batter sweeter - but this is a matter of personal preference. Go ahead and taste them before you add any sugar to see if you like the flavor.
These turned out to be fewer calories than the banana version (but I still like the banana version more :)
Did you try the cereal bites recipe? What did you think?
---
Healthy Pumpkin Bites Recipe

(makes 14 or 28)
1/2 cup peanut butter (or any of your favorite nut butters)
1 15 ounce can pumpkin
1/2 cup whole nuts (choose your favorite)
1 ½ cup total of dried fruits (cherries, cranberries, apricots, raisins, coconut, etc.)
1 cup rolled oats
2 teaspoons pumpkin pie spice (optional)
4 tablespoons maple syrup (or to taste)

Preheat oven to 350 F. In a food processor, coarsely chop nuts and dried fruits. Mix nut butter and pumpkin until a well blended. Add the rest of the ingredients and mix. Taste to ensure the right level of spice and sweetness. Spoon into lightly greased muffin cups and bake for 30-35 minutes. Can be stored in refrigerator for 5 days.
For one pumpkin bite (14 in recipe) = 168 calories, 6.9 g fat, 25.2 g carbohydrates, 4.6 g protein, 3.0 g fiber, 47 mg sodium, 5 Points+
Want to read about snacks?
A Grab 'N Go Breakfast With ZERO Added Sugar (and you will love it)
Energy Bar Recipe
Chocolate Pumpkin Protein Bars - YUM!
A Kid's Energy Bar for Lunch Boxes and Adults