How Mondays Can Help You Be Healthier
Today is Friday and most of us are grateful. An entire restaurant chain is named T.G.I.F. (Thank God It's Friday) for a reason.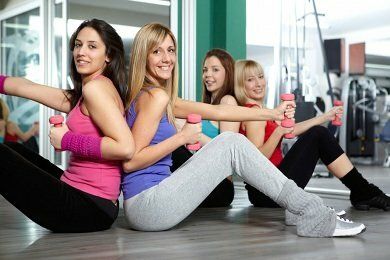 I like to think of Friday as "slacker Friday" because it is when I give up on everything that I was trying to do all week :)
What about Monday?
I found a group of organizations involved with trying to end preventable diseases (think obesity) by getting us to do healthy things on Monday.
The Monday Campaigns is a non-profit public health initiative in association with Columbia Mailman School of Public Health, Johns Hopkins Bloomberg School of Public Health and Syracuse Newhouse School of Public Communications.
These organizations believe that Monday is "the day all health breaks loose.''
Tami, project associate for The Monday Campaigns, was happy to give Snack Girl an interview about Monday.
Snack Girl: Your group is probably the most famous for, ""Meatless Monday". Why Monday? Isn't Tuesday a good day for meatlessness? :)
Tami: Meatless Monday is definitely our most popular campaign! Cutting meat one day a week is such a simple step and the health benefits are truly impressive. We ask people to make healthy changes on Monday because it's the beginning of the week; a reset button built into our normal routine.
Every Monday serves as an opportunity to evaluate the previous week, set our intentions for the next seven days and start anew. Of course that doesn't mean you should limit healthy behaviors to Monday!
Snack Girl: Is there evidence that the change in habit on Monday influences the entire week? For example, after having a meatless Monday do people eat less meat the rest of the week?
Tami: Research has shown that weekly health reminders can boost physical activity, nutritious eating and overall healthy behavior.
The beginning of the week is the perfect time to offer this gentle nudge, since most people see Monday as a day for a fresh start; the day they're most likely to start a diet, exercise regime or smoke cessation program.
In my experience, it's clear to see that Meatless Monday participants are focused on making healthier choices the rest of the week too. People post healthy plant-based recipes and tips on nutritious eating to our Meatless Monday on Facebook page all week long!
To read their research on Monday - check out Monday Research
Snack Girl: What is the motivation behind - "The Kids Cook Monday!"?
Tami: Our country is in the midst of a childhood obesity epidemic: youth obesity rates have tripled in the past 30 years. At the same time cooking (along with the family dinner) has become a lost art in many households as more of us opt for convenience over cuisine.
The Kids Cook Monday campaign hopes that families will come together and connect through cooking healthful dishes. After all, children are more likely to try new foods if they've had a hand in preparing them.
Snack Girl: Have you taken a Monday challenge that has shifted your own habits?
Tami: Absolutely! I food journal and have found that Monday is the perfect opportunity to review my diet from the previous week and ask myself how I'd like to improve. I also make sure to get in some physical activity like a Monday Mile (especially if I started slacking over the weekend!).
We all need to hit the reset button once in awhile; Monday just seems like a natural fit.
Snack Girl: What is your favorite snack?
Tami: I try to think of snacks as (delicious) fuel to keep me going! I love filling foods with a bit of crunch like walnuts, apple slices with peanut butter and baby carrots dipped in hummus.
Does starting a healthy habit on Monday seem like a good idea?
Want to read about snacks?
Check Out This Cookie (Scary)
Saving The Brussels Sprouts
A Thanksgiving Feast Cooked in 10 Minutes? Done!
What You Need To Know About Hot Dogs