Love Sliders? Here Is A Healthy Version
In case you are wondering, a slider is a mini-sandwich or burger. I first encountered them at my neighborhood Chili's.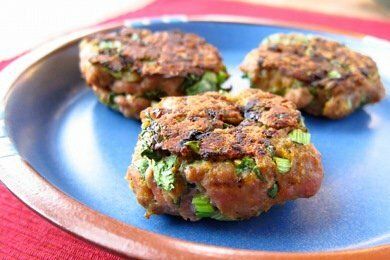 I was thinking, "Wow, how cute! Four mini-burgers." and then I read the nutritional facts.
The "Chili's Big Mouth Bites with French Fries" has a whopping 2,350 calories, 38 grams saturated fat, and 3,940 milligrams sodium. umm, ouch.
So, in my pursuit of everything snacky, I found this great book - "100 Calorie Snack Cookbook". Sally Sampson has created over 200 recipes for 100 calorie snacks. Take that Nabisco 100 Calorie snack pack!
Her book is filled with great suggestions, but I will warn you, they are on the gourmet side of snacking. For example, she uses smoked trout in one of her snacks (yummy).
Every one of her snacks look delicious and they are all using whole foods and whole grains.
I tried her Turkey Sliders recipe and was delighted by their flavor. The first thing you will notice is that there is no bun. I promise that you will not miss the bun. Secondly, they measure in at 100 calories each and would make a great afternoon snack.
I would serve these at a party, too. I think you may have to give out knives and forks because most people wouldn't want to pick them up with their fingers (no bun). They would taste great hot and room temperature.
I have adapted Sally's recipe to include an entire pound of ground turkey. The recipe in her book only uses 1 1/2 ounces of ground turkey.
I thought it would be easier to make a big bunch of these and then either freeze them or serve them at a party.
Do you have a slider substitute? Please share.
---
Turkey Sliders Recipe

(Reprinted with permission from "100-Calorie Snack Cookbook" by Sally Sampson)
(makes 11 sliders)
1 pound ground turkey
3/4 cup chopped scallions
3/4 cup chopped fresh cilantro leaves
2 1/2 teaspoons orange zest
2 1/2 teaspoons curry powder
1 teaspoon kosher salt
4 limes cut into quarters

Place all of the ingredients (except the lime) in a small mixing bowl and, using your hands, gently mix until everything is evenly incorporated. Form into a patty and make a small indentation about the size of a dime in the middle of each side; handle as little as possible: do mot work more than necessary.
Place a cast iron skillet over high heat and when it is hot but not smoking, add the burger to the dry pan. Cook until well seared on both sides, about 5 minutes. Garnish with the lime quarter.
For one slider: 104 calories, 5.7 g fat, 21.8 g carbohydrates, 11.8 g protein, 0 g fiber, 400 mg sodium
---
$18.95 $11.92 Buy on Amazon.com
As an Amazon Associate, I earn from qualifying purchases.
---
Want to read about snacks?
A Holiday Snack From Bran Appetit
Are Whole Wheat Ritz Crackers Healthy?
Heavenly Fresh Ginger Cake From David Lebovitz
Lessons From a Coconut